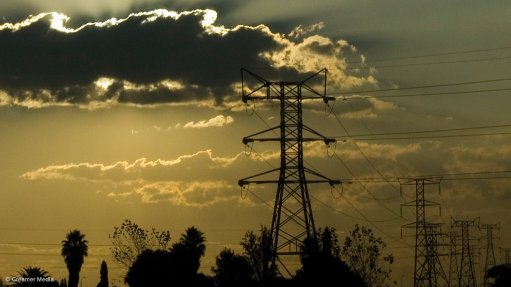 Photo by: Creamer Media
The South African National Energy Association (Sanea) has outlined its nine top energy risks for 2019, with price volatility and uncertainty, and South Africa's fiscal crisis, among the top risks at both the country and industry level.
The issue of price volatility and uncertainty was significant as it impacted on many other sectors and on the most vulnerable in society, Sanea secretary general Wendy Poulton said on Wednesday evening.
However, she told a meeting of Sanea members, in Cape Town, that this risk was more difficult to tackle, as it was more global in nature.
South Africa's fiscal crisis emerged as a top risk for Sanea members, as shown in Sanea's 'South African Energy Risk Report' for 2019. Sanea members prioritised 20 risks from an initial list of 50 energy risks. This was whittled down to the overall top nine risks for the country for 2019.
"The fiscal crisis will have a significant impact on the achievement of the objectives of the National Development Plan and the energy white paper, due to higher cost of capital and a loss of investor confidence," the report said.
It is the only risk from the 2018 top nine to make it into this year's top nine, indicating that the risk has not diminished and is likely to remain in the top ranked risks for some time, unless there is significant economic growth, Sanea said.
Coupled with this, a lack of investment in and a breakdown of infrastructure also showed up as a key risk.
"At an industry level, price volatility and the fiscal crisis were big concerns, as was parochial interest . . . people putting their interests ahead of what is best for the country," said Poulton.
Activism and civil disobedience was also included as a top risk, and has been rising in importance around the world. Poulton described this as an interesting risk, as it could be perceived as both positive and negative, depending on the situation.
She said coal truckers blocking the road to the airport to protest against jobs being shifted from the coal sector to renewables, could be seen as negative, although activism is also perceived as positive for its role in pushing for change in society. This had been seen in the wave of activism against some of the policies and ideas proposed by US President Donald Trump.
The changing customer of the future also made it into the top nine risks for this year, also with positive and negative consequences. This risk has been driven by technological trends and declining prices for disruptive technologies.
"With disruptive technologies, customers will have a far greater say in the way things are done," said Poulton. Appropriate policy was another risk. Poulton said having appropriate policies in place, which could adapt to the rapid pace of change in the energy sector, would be important.
Energy transition readiness and energy data availability were the final two risks for this year.
Poulton said the energy risk environment in South Africa remained one of high uncertainty and change.
"Overall, the country is at risk of not being ready for the energy transition and new and innovative approaches to policy and business models will be required," said the report.
Poulton said the risks in the report would be tracked as they played out over time.
"The objective of our work is to provide a basis for future debate and cooperation between government and industry in addressing some of these risks."
Sanea has also called on leaders within the sector to be Sanea "energy thought leaders", with the goal of developing a more resilient energy sector in South Africa.
Sanea, founded in 1924, is the South African Member Committee of the World Energy Council.