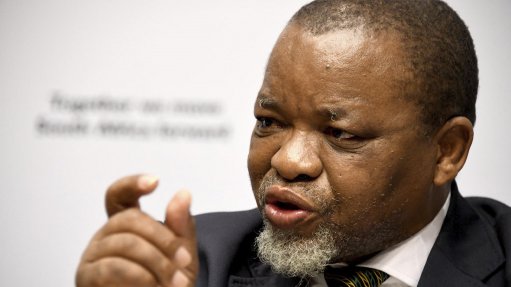 Mineral Resources and Energy Minister Gwede Mantashe
South Africa is on track to achieve a new record low in mining fatalities for the year, Mineral Resources and Energy Minister Gwede Mantashe said during the Mine Occupational Health and Safety Tripartite Summit hosted by the Mine Health and Safety Council, in Midrand, on October 13.
To date, 38 work-related fatalities have been recorded in the South African mining industry, a significant drop from the 74 recorded last year, Mantashe said.
The lowest ever number of fatalities recorded by the South African mining industry in any year was in 2019, when there were 51 fatalities. The industry's safety performance, however, worsened again in 2020 and 2021 when 60 and 74 fatalities were recorded.
Mantashe also warned that there were still two-and-a-half months to go before the end of the year and that much could change during that time.
He implored delegates attending the summit to continue striving for zero harm and zero fatalities.
The summit is aimed at addressing the bottlenecks that prevent the industry from achieving zero harm and zero fatalities.
Mantashe singled out fall-of-ground (FoG) incidents as a longstanding area of significant concern, but he also applauded the lack of incidents in both the gold and platinum group metals (PGMs) mining sectors so far this year.
Mining Weekly reported earlier this year that the gold and PGMs mines had achieved zero FoG-related deaths throughout the first half of this year.
The mining industry has been paying particular attention to the issue and has been taking steps to do all it can to eliminate FoG-related deaths. The Minerals Council South Africa, the Mandela Mining Precinct and other partners earlier this year also launched an innovation competition aimed at identifying technologies that could help eliminate the risk of FoG-related deaths in the mining sector.
Mantashe encouraged continued efforts to eventually eliminate all risk associated with FoG incidents, reiterating that one fatality was a fatality too many.
He also commended the 67% reduction in machinery-related fatalities so far this year.
Further, Mantashe raised concerns about the safety of South Africa's tailings storage facilities (TSFs), singling out the Free State as having many more TSFs that were akin to the Jagersfontein tailings facility. He implied that there was a general lack of proper qualifications among those who manage the TSFs, saying these employees were qualified in mining rather than in water management.
Organised labour stakeholder advocate Hanlie van Vuuren, meanwhile, called on Mantashe to conduct an urgent and immediate survey of all tailings facilities in the country.
"We have a responsibility to improve the image and reputation of the sector and we can do better," Mantashe agreed.
He said it was important to continue pushing for zero harm and zero fatalities because the mining sector was important for South Africa's economy, and that it needed to grow.
He called on delegates to do more exploration and open up more mines to achieve a 12% contribution to [gross domestic product]. He said mining was not dead in South Africa, only that it was no longer focused so heavily on gold mining but on a more diversified portfolio of metals and minerals.
Mantashe claimed that mining saved the fiscus during the Covid-19 pandemic, and so it should work hard to not destroy jobs through injuries and fatalities but rather create jobs by ensuring worker safety.
Mantashe said relations between all stakeholders were important, and that much of it depended on continued improvement in health and safety.
"The protection of workers is critical to ensure that the industry continues to thrive and contribute to the economy," he said.
Mantashe also called for a swift resolution and end to strikes, or to avoid them altogether by working more cooperatively.
He said industrial action caused much stress for workers, and that stressed miners who were under pressure suffered lapses in their safety consciousness, which could lead to accidents and fatalities.