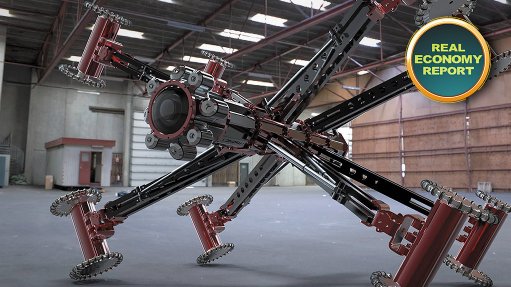 From Creamer Media in Johannesburg, this is the Real Economy Report.
Sashnee Moodley:
Johannesburg company Ryonic Industries is receiving both national and international interest in its newly developed pipeline inspection robot. Keith Campbell reports.
Keith Campbell:
The robot is designated the RMIS Crawler System, RMIS standing for Ryonic Modular Inspection System. Ryan Beech is the Managing Director and Chief Roboticist of Ryonic and he tells us about the development of the company and of the RMIS robot.
Ryonics MD & chief roboticist Ryan Beech:
Sashnee Moodley:
Other news making headlines this week:
Africa's brightest youth brainstorm solutions to socioeconomic challenges
And, gas gensets a sustainable power alternative
One hundred of Africa's most innovative youth gathered at the Brightest Young Minds 2016 summit, held in Johannesburg last month, to discuss and find innovative solutions for Africa's socioeconomic challenges.
Brightest Young Minds CEO Dhiren Govender

Engine, filtration and power-generation product manufacturer Cummins notes that gas-powered gensets are a sustainable power solution, owing to natural gas being methane rich and occurring naturally.
Cummins Southern Africa Director Power Generation Kenny Gaynor


That's Creamer Media's Real Economy Report. Join us again next week for more news and insight into South Africa's real economy.