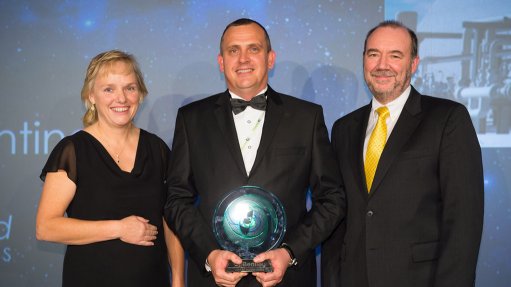 Anne-Marie Walters, Marais 'Spyker' van Heerden and Ken Adamson
South Africa was again recognised for excellence in engineering on Wednesday night, when Cape Town-based computer-aided design draughting (CADD) specialist 3D Draughting took top honours at global infrastructure software manufacturer Bentley System's Be Inspired Awards, held at the Hilton London Metropole as part of the 2014 Year in Infrastructure Conference.
The company was awarded the first prize in the Innovation in Process Manufacturing category, which recognises significant accomplishments in the planning, engineering, construction and operations of process manufacturing facilities. The finalists in this category "achieved excellence in project management, delivered a clear return on investment and displayed technical innovation," said Bentley Systems global marketing director Anne-Marie Walters.
The award recognised 3D Draughting for its mechanical plant layout design of local energy company Sunrise Energy's liquefied petroleum gas (LPG) import and storage terminal, near the Saldanha Bay economic development zone, in the Western Cape.
The company implemented advanced three-dimensional (3D) modelling to deliver the multidiscipline project, leveraging Bentley Systems' technology to present information simply and clearly, from design through to construction and operations.
The company's 3D design improved the efficiency of the engineering reviews and reduced decision errors and design clashes, providing for more accurate fabricator contract management.
Walters, who facilitated the jury, said the judges were impressed by this "small, nimble team" of seven, operating in a developing region with a mission of deploying best engineering practices where they could.
She told Engineering News Online that 3D Draughting's insistence that the intelligence gathered during the drafting process would be given to the owner-operator for life cycle management purposes swayed the vote significantly. "This conveys such innovative and forward thinking, and that's what impressed the judges. They're ahead of their time."
Elated 3D Draughting MD Marais "Spyker" van Heerden said he would not have succeeded without the support of his team.

Sunrise Energy MD Barthlo Harmse, who worked closely with Van Heerden, told Engineering News Online that the company was "delighted" with the win.
"This is a well-deserved award and we congratulate 3D Draughting on its achievement. The company has provided Sunrise Energy with exceptional service. The quality of 3D Draughting's work, attention to detail, innovation and design optimisation is remarkable and the team is an absolute pleasure to work with," he commented.
ABOUT THE PROJECT
Once in operation, Sunrise Energy's bulk LPG terminal – a registered national Strategic Integrated Project 5 project – will import gas from ships docking at the new multi-buoy mooring (MBM) facility in Big Bay, Saldanha.
3D Draughting's scope of work started with the design of 2 000 m of buried overland pipeline, which ends in a pigging station. From here, the gas will be distributed into one of five 7 m × 70 m pressurised mounded storage bullets. The LPG will then be pumped using any of the five loading pumps to the truck-loading gantry from where it will be distributed to end-users.
3D Draughting's services included the design of a fire tank with fire water pumps, a compressed air system and nitrogen system, standby diesel generators, a water treatment plant, stores, offices and control rooms, as well as a cylinder filling plant with administration building and stores.
Construction of the facility was in line with the South African government's energy strategy and aimed to offer a secure supply of LPG to the country, making it available to all sectors of society, specifically lower-income households.
The project would incrementally meet the demand for LPG in the Western Cape, which was currently met by the transport by road of LPG from other provinces. It would also decrease the unsafe long-distance transportation of gas by road.
Phase 1 of the project, worth R800-million, was expected to replace up to 1 200 MW of equivalent electricity, which makes Sunrise Energy's facility a viable infrastructure project in terms of South African energy policy.
Fabrication of the LPG storage bullets started in August 2013, with bulk earthworks on site having started in early 2014. Phase 1 of the facility was expected to be commissioned in mid-2016. However, the project was currently delayed owing to regulatory challenges.