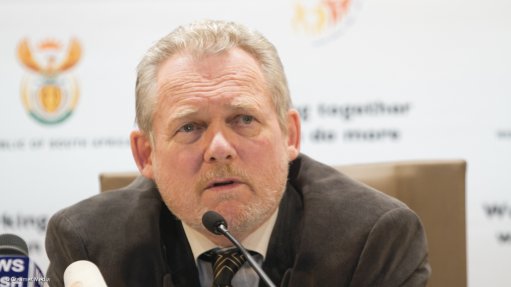 Photo by: Creamer Media
Trade and Industry Minister Dr Rob Davies reports that South Africa will be prioritising an acceleration of market integration across Africa as part of efforts to mitigate the risks associated with the prospect of trade wars, as well as what he describes as a growing disregard for the multilateral rules that have hitherto underpinned international trade.
Delivering his Budget Vote address in Parliament on Tuesday, Davies described boosting intra-African trade and building an integrated African market as a key priority for South Africa. The continent has a population of more than one-billion people, while Africa's combined gross domestic product is estimated at more than $3.3-trillion.
"Given escalating trade protectionism in key export markets around the world, regional integration arrangements offer South Africa an opportunity to expand into new markets," Davies said.
The Minister pointed to recent changes in the global trade environment, which he said were having profound implications for South Africa. "Powerful countries are now seemingly moving away from rules-based multilateralism in pursuit of a blatantly partisan agenda, seeking to prioritise their trade and commercial interests, while subordinating the interests of the rest of the world, and Africa in particular."
Protectionism was being justified on the basis of trade imbalances, or national security concerns, while the use of nontariff barriers was also on the increase.
"Threats of trade wars between major economies are emerging – we have already become 'collateral damage' in problems not of our own making in the steel and aluminium sectors. The escalating tit-for-tat is sending shockwaves across international markets, raising concerns over a potential lose-lose outcome for the global economy."
The Minister's reference to steel and aluminium followed the failed attempt by South Africa to be included on a list of countries exempted from tariffs imposed by the US on March 23. Since that date, South Africa's steel and aluminium products have been subjected to a 25% and 10% ad valorem tariff respectivly, despite an offer to restrict exports to a quota based on 2017 export levels.
For trade to be fair, Davies told lawmakers, it should encourage the integration of developing economies into the global system of trade, while supporting their further economic diversification.
"In the context of unilateralism and threatening trade wars, the development integration agenda we are pursuing in Africa becomes even more relevant. Africa therefore needs to prioritise the implementation of the development integration agenda that combines market integration with cooperation to promote industrial and infrastructure development."
Although South Africa had refrained, for legal reasons, from signing a recent agreement establishing the so-called African Continental Free Trade Area (AfCFTA) Davies stressed the country's in-principle support for the arrangement. The AfCFTA was signed by 44 African Union member countries in Kigali, Rwanda, on March 21.
"South Africa is committed to the agreement, [and] we have urged the African Union Commission to conclude the outstanding work as soon as possible in order to enable signature of the complete agreement at the earliest available opportunity and to commence Phase II of the negotiations in August 2018."
In its recently launched book titled An Incomplete Transition: Overcoming the Legacy of Exclusion in South Africa, the World Bank listed weak integration into global and regional value chains as a constraint to growth and job creation.
However, it also warned that a "regional pivot" posed the risk of South Africa retreating from global markets. "It may hurt South Africa as much as the region, since South Africa could help regionally produced products reach global markets".