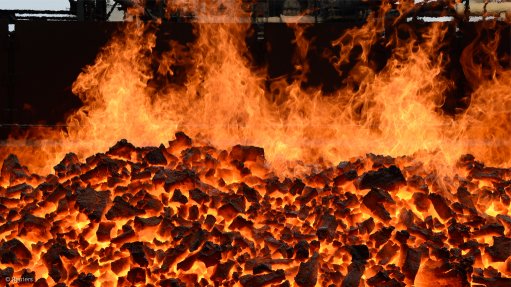 Burning coal
Photo by: Reuters
South Africa risks becoming an outlier in the global community if it pushes ahead with plans to develop new coal-fired power plants, says climate change think tank E3G.
E3G says the country is driving these plans despite there having been a 76% reduction in proposed new coal power generation capacity globally, since the negotiation of the Paris Agreement in 2015.
The Integrated Resource Plan of 2019 makes provision for another 1.5 GW of coal power to be procured, but with an emphasis that that capacity must make use of more efficient coal technologies, such as high-efficiency, low-emissions technology.
However, as Eskom's existing coal-fired power stations reach the end of their lives, that capacity is expected to be phased out, with about 5 400 MW of capacity to be decommissioned by 2022. That will increase to 10 500 MW by 2030 and to 34 000 MW by 2050.
Since 2015, 44 governments have committed to no new coal, while a further 40 countries have no projects in the pre-construction pipeline, meaning they are nearing the position of not committing to new coal.
The think tank finds that action by just six countries could remove 82% of the remaining global pipeline. China alone accounts for 55% of the global total, followed by India, Vietnam, Indonesia, Turkey and Bangladesh.
The remaining pipeline is thinly spread across a further 31 countries, 16 of which are only one project away from embracing a future without coal.
These countries could follow global momentum and regional peers in ending their pursuit of new coal-fired power generation, E3G states.
E3G reaffirms that coal is the single largest contributor to climate change.
According to a recent United Nations report, the use of coal needs to fall by 79% by 2030, compared with 2019 levels, to meet the pledges countries signed up to in the Paris Agreement.
These pledges are aimed at limiting global warming to 1.5 ˚C above preindustrial era levels to avert the worst impacts of climate change.