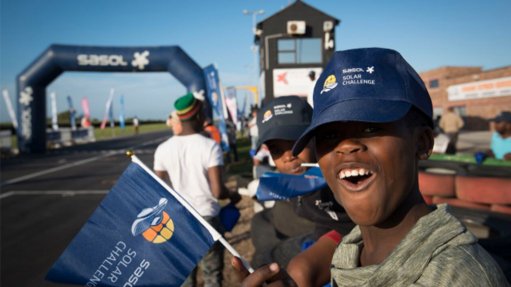 INSPIRING STUDENTS The Sasol Solar Challenge aims to inspire students to take up science, technology, engineering and mathematics subjects
Amid the conclusion of this year's Sasol Solar Challenge (SSC), founder and director Winstone Jordaan tells Engineering News that South Africa is poised to adopt electrified transport.
"Without any doubt in my mind, we are heading for an electric future. This means we must find better, cleaner and more efficient ways of creating electricity and, in this respect, solar photovoltaic systems will play a pivotal role."
He stresses that South African has witnessed the introduction of electric vehicles by major vehicle producers such as Nissan, BMW, Volvo, Jaguar, Audi and Mercedes-Benz. He further adds that companies, such as BMW, Jaguar and GridCars are also progressing charging infrastructure development that will make the electrification of local transport a reality.
While Jordaan suggests that, before the end of this year, people will be able to drive electrified vehicles on all South Africa's major highways – he admits that a lot of progress must still be made to reach this goal. Advancing energy storage systems in the form of battery technology development, preparing transport systems and infrastructure to cope with technological advancements and, importantly, bettering science, technology, engineering and mathematics (STEM) education systems will be critical.
Jordaan adds that the SSC – a solar race event which has taken place biennially since 2008 – was conceived with the express purpose of driving technological advancements in renewable solar electrification while stimulating local interest and competency in renewables development and innovation. He states that the SSC currently acts as a platform to encourage advancements in solar technology and create interest in STEM subjects among tertiary students.
Sasol has sponsored the solar challenge since 2012 as part of its commitment to furthering STEM education and inspiring students to pursue technical careers.
Jordaan adds that the SSC is a way of bringing solar technology into local communities and encouraging them to deepen their understanding of solar technology through interaction with international communities, making the concept of solar technology more accessible.
He states that this year's winner of the 2018 SSC, Dutch team Nuon, tested an advanced speed control that works in a range, depending on the terrain, to minimise energy use on hills. The Tshwane University of Technology's team drove innovations in the manufacturing of their vehicle through the adoption of new lightweight materials, while the North-West University and Sonke teams experimented with advanced cooling systems to make solar panels more efficient.
"Over the years, the SSC has seen solar panels decrease in size from 11 m2 to 4 m2, with the performance of the cars remaining the same. This shows how the efficiencies of the vehicles has developed and improved since 2008," highlights Jordaan.
He adds that technological advancements in the encapsulation of solar cells, algorithms in battery management, developments in maximum power point tracking technology and advanced cruise control capabilities have also been driven by the needs of the solar cars being used in the competition.
"The solar cars built for our competition often become the inspiration for commercial products," enthuses Jordaan.
Thousands of local students have taken part as members of the solar car teams in the SSC. The organisers add that at least ten companies have been established as a result of the enhanced skills that students develop during the challenge. It further states that young children have been inspired to move into STEM careers through their involvement with the event.
"While the event is a 'brain sport' for participants, it is also a hugely inspiring platform for learners, promoting interest in STEM subjects, which are considered boring and overly theoretical," notes Jordaan.
SSC Winners
Dutch team Nuon, from the Delft University of Technology, entered this year's race as the defending champions and walked away with their third consecutive win.
The ten team members had been working full time on the car, Nuna9S, since their graduation in August last year, with degrees among the team members ranging from aerospace engineering to mechanical and electrical engineering, and applied physics.
Nuon's solar car clocked 4 030.4 km, and its closest competitor was Japan's Tokai team, whose solar car managed to complete 3 941.4 km.
The top South African team was the Tshwane University of Technology, whose solar car registered 2 397 km, narrowly beating second-placed local competitor, the North-West University, which registered 2 276.3 km.