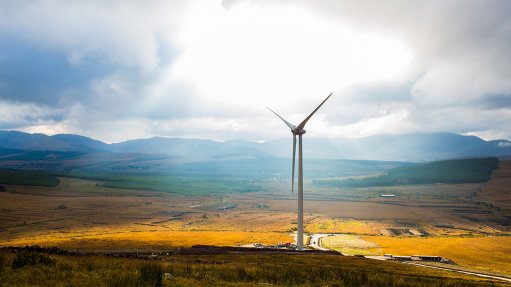 The Global Wind Energy Council (GWEC) is forecasting that South Africa will emerge as the leading wind energy market in Africa and the Middle East over the coming five years, with installations of 3.3 GW by 2024.
In a statement released this week, the council reported that only 894 MW of new wind energy capacity was added across the two regions in 2019, representing a 7% decline on the 962 MW installed in 2018.
GWEC Market Intelligence's preliminary forecast is for a strong recovery in Africa and the Middle East between 2020 and 2024, however.
During the period, it expects 10.7 GW of wind energy capacity to be installed across the territories, representing an increase of 167% against the current market status. Total installed wind capacity in Africa and the Middle East currently stands at over 6 GW.
This recovery will be driven, the council states, by South Africa (3.3 GW), Egypt (1.8 GW), Morocco (1.2 GW) and Saudi Arabia (1.2 GW).
The outlook represents an especially sharp turnaround for South Africa, which did not feature on GWEC's list of top installers for 2018. Egypt led with installations of 262 MW last year, followed by Morocco (216 MW), Jordan (190 MW) and Ethiopia (120 MW).
South Africa's recovery will initially be driven by the introduction of about 1.3 GW of new capacity associated with the fourth bid window of the Renewable Energy Independent Power Producer Procurement Programme (REIPPPP).
The introduction of these projects, which are currently under construction, was delayed for four years after Eskom refused to conclude power purchase agreements (PPAs) with independent power producers on the basis that it had returned to a surplus operating position in 2015/16. South Africa had since descended back into a power deficit, characterised by periods of rotational load-shedding.
In 2018, government eventually broke the impasse by instructing Eskom to sign PPAs with what were mostly wind and solar projects procured in 2014.
The GWEC expects the project pipeline to be supplemented by further REIPPPP tenders, which should eventually be held in line with the new Integrated Resource Plan (IRP 2019), which was published in October.
The IRP 2019 foresees the installation of 14.4 GW of new wind power capacity from 2022 to 2030.