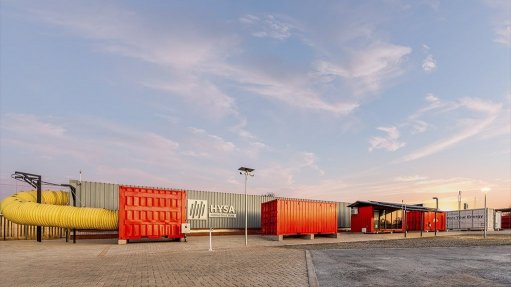 Renewable hydrogen piloting site at HySA North-West University, including LOHC hydrogenation system.
JOHANNESBURG (miningweekly.com) – South Africa is part of a crucial international project aimed at taking key hydrogen technology down the cost curve and lowering the energy it requires to facilitate catalytic reactions.
The focus of the SherLOHCk project, which is funded by the European Union under the Horizon 2020 framework, is liquid organic hydrogen carrier (LOHC) technology, which makes it possible for hydrogen to be transported in the same way as oil currently is, using conventional oil tankers, rail tankers and road tankers for transport and underground tanks for storage.
So far, the Hydrogen South Africa (HySA) team has developed a computational approach to identify promising bimetallic catalyst for dehydrogenation of LOHC, Professor Dmitri Bessarabov, the director of South Africa's Department of Science and Innovation's National Centre of Competence: HySA Infrastructure, confirmed to Mining Weekly on Thursday.
Of the three centres of competence established under the HySA umbrella, HySA Infrastructure in North West province focuses on technologies relating to hydrogen production and storage, with water electrolysis, electrochemical hydrogen compression, LOHC and Power-to-X in the top ranking. HySA Infrastructure is co-hosted by North-West University and the Council for Scientific and Industrial Research.
Hydrogenious LOHC Technologies, part of AP Ventures' portfolio, has developed a technology to bind hydrogen to an oil, allowing for more efficient and lower cost transport at ambient conditions. (The second attached image shows Hydrogenious' system.)
SherLOHCk's abstract on its LOHC project reiterates hydrogen's leading role in the current global trend towards the generation of decarbonised zero-emission energy as it can function as an energy storage medium, effectively storing renewable energy for as long as needed and at large scale.
However, this way of using hydrogen often requires transport of hydrogen from the place of renewable electricity production to site use.
In this context, LOHC can be used as a liquid medium that has high 2 300 kWh/t hydrogen capacity for both storage and transport and release back to pure hydrogen on demand.
Although some commercial solutions exist, these need to be brought down the cost curve to less than €3/kg of hydrogen and reduce the energy needed to facilitate catalytic reactions.
The SherLOHCk project targets the joint development and upscaling of more energy efficient LOHC molecules, porous thermal conductive catalyst support and highly active catalysis.
HYDROGEN MAKES RENEWABLE ENERGY TRANSPORTABLE
One of hydrogen's most important contributions to a future energy system is that it makes renewable energy transportable and tradable on a global scale.
Hydrogen is earmarked to replace fossil fuels in a world anxious to mitigate climate change, the planet's most pressing current problem and South Africa is ideally placed to produce green hydrogen because of its superior sunshine, prime wind, available land, platinum abundance and Sasol's long-standing application of Fischer-Tropsch technology to convert grey hydrogen into petrol, diesel and chemicals.
Sasol currently produces grey hydrogen from coal but is able to switch to the generation of green hydrogen, which is produced by splitting water into hydrogen and oxygen in electrolysers that use platinum group metal (PGM) catalysts; LOHC requires PGMs for its hydrogenation and dehydrogenation processes; and fuel cells require PGMs to generate electricity.
The storage density of hydrogen in the LOHC is up to five times higher than conventional high-pressure storage. A cubic metre of LOHC can carry about 57 kg of hydrogen. Thus, transport capacities on trucks, trains or ships are increased, significantly reducing total cost for hydrogen supply to the customer.
Umicore and Anglo American, through its PGMs business Anglo American Platinum, have announced a research and development collaboration agreement to develop PGM-based catalysts for LOHC applications on fuel cell electric vehicles (FCEVs) and other mobile applications. This catalyst technology has the potential to transform the way hydrogen can be stored and used to power FCEVs.
Compressed hydrogen is currently used to power FCEVs. Insufficient infrastructure and refuelling networks for compressed hydrogen, however, represent one of the main barriers for a more widespread use of hydrogen in the transportation industry. LOHC technologies provide an effective alternative solution by chemically bonding hydrogen to a stable organic liquid carrier, thereby eliminating the need for compression and making it safer, more practical and more cost efficient to transport hydrogen using existing conventional fuel networks.
The joint research and development programme targets new PGM-based catalyst technologies for LOHC, that can be installed directly on FCEVs and other mobile applications. This will help to further simplify the fuelling process: the LOHC-containing hydrogen can be unloaded directly on the FCEV and the dehydrogenation phase will be carried out onboard the vehicle. The new catalyst technologies will allow this dehydrogenation step to be carried out at lower temperatures and pressures, which is required for mobile applications, thereby providing a simpler and cheaper alternative to onboard storage of compressed hydrogen.
"There is growing enthusiasm for the role that hydrogen can play in tackling global energy challenges. In order to unlock its full renewable energy potential, however, we need to solve the existing transport, logistics and infrastructure challenges. LOHC technology provides a versatile and attractive solution both for the short- and long-term future, and PGMs have an important role to play in streamlining logistics, offering a better user experience and reducing cost across the entire value chain," said Anglo American PGM market development Benny Oeyen in a media release..
Umicore is a supplier of catalysts for PGMs-using proton exchange membrane FCEVs.
"Allowing the use of hydrogen loaded LOHC in mobile fuel cell applications by using advanced LOHC dehydrogenation catalyst technology will help to overcome existing challenges of hydrogen infrastructure and logistics and thereby foster the wider introduction of fuel cell electric vehicles," said Umicore senior VP new business incubation Lothar Mussmann in the same release.
Umicore will conduct the research with support from Anglo American's PGMs market development programme and in cooperation with Hydrogenious LOHC Technologies co-founder Professor Peter Wasserscheid of the University of Erlangen. Hydrogenious LOHC Technologies is a portfolio company of AP Ventures, in which South Africa's Public Investment Corporation is a cornerstone investor.