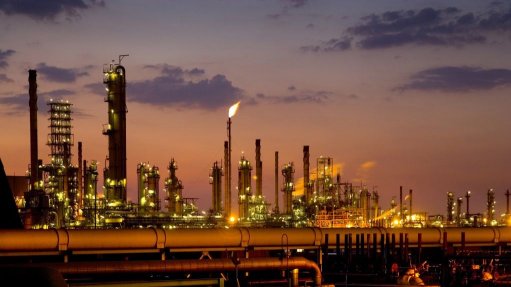 Sasol is studying the production of sustainable aviation fuels using green hydrogen at Secunda (pictured) instead of hydrogen from coal
If South Africa can unlock disruptive technology, in particular green hydrogen, it could decarbonise its petrochemicals and chemicals sectors and become a leading global producer of green fuels and chemicals for both domestic use and export.
The outlook for South Africa's crude refineries, however, is less positive with the aging fleet unable to produce the cleaner fuels required by impending regulations stipulating the transition to ultra-low sulphur petrol and diesel products from September 1, 2023.
These are two of the main findings of a study undertaken by the National Business Initiative (NBI) in collaboration with Business Unity South Africa and the Boston Consulting Group to investigate the prospects for the decarbonisation of the domestic chemicals and petrochemicals sector.
The industry currently accounts for 13% of South Africa's emissions, 90% of which are produced by Sasol, which uses coal and gas to produce synthetic fuels and chemicals at Secunda and Sasolburg.
The industry employs about 140 000 people directly and sustains more than 690 000 indirect jobs.
The final report will be released on October 21 ahead of the COP26 climate talks in Glasgow, Scotland, at which NBI will have a pavilion stand where it hopes to showcase South Africa's green industrialisation prospects.
In a presentation on the study's findings, NBI head of environment Stephen Nicholls said South Africa's opportunity to be a global manufacturer of green fuels and chemicals was based on the country's three competitive advantages in the production of green hydrogen and synthetic fuels.
"First, South Africa has some of the best solar and wind resources on the planet.
"Second, it has access to sufficient land and access to seawater for desalination, which can also serve a dual purpose of improving water security.
"And third, it has unique Fischer-Tropsch technology for the beneficiation of hydrogen into hydrocarbons such a e-methanol and sustainable aviation fuels (SAF)," Nicholls explained.
Green hydrogen is produced by using renewable electricity to split water into hydrogen and oxygen, using an electrolyser.
Sasol, which has placed green hydrogen at the centre of its recently updated strategy, is currently studying, in partnership with Enertrag, Afrox and Navitas, the production of SAF using green hydrogen at its Secunda complex, in Mpumalanga.
The study states that the demand for green hydrogen could rise to between 160- and 300-million tons as countries seek to use hydrogen and hydrogen derivatives to decarbonise the hard-to-abate sectors of aviation, marine and long-distance land freight, chemicals, steel and cement.
South Africa, along with countries such as Chile, Namibia, Saudi Arabia and Australia had the opportunity to become specialist green fuels and chemicals producers, Nicholls said.
President Cyril Ramaphosa also highlighted the green hydrogen opportunity recently, saying South Africa stood ready to be "a major exporter in this market, to use hydrogen to rapidly decarbonise our existing industries, and attract industrial investment from across the globe".
The NBI study added that South Africa was well placed to supply the European market, where yearly demand for hydrogen and power fuels could rise to about 30-million tons by 2050.
Besides a conducive policy environment, Nicholls said it would be critical to establish international partnerships and pilot projects to drive research and development, offtake agreements and to secure the cheap financing required to unlock the opportunity.
The country's conventional refinery fleet, by comparison, was expected to shut down by 2030, owing to its decreasing competitiveness against imports.
Nicholls said the risks associated with these closures – including the security of supply, social and balance of payments risks – will have to be well managed over the medium term.
"But the changing demand landscape also creates opportunity for South Africa in the long term.
"South Africa could become a leading producer of green synthetic fuels and green chemicals, particularly e-ammonia and SAF for local demand and export, enabled by the decarbonisation and conversion of its synfuel sector."
He said it was, thus, a priority for South Africa to develop a green fuels and chemicals industrialisation plan and to develop a national green hydrogen vision and commercialisation strategy.