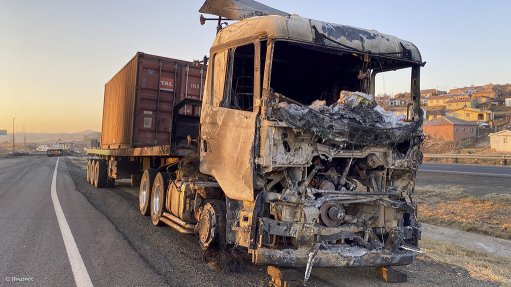 President Cyril Ramaphosa must ensure that the violent scenes currently playing out on South African highways end, says Road Freight Association (RFA) CEO Gavin Kelly.
He urges Ramaphosa to see to it "that those that are responsible are held accountable, that the rule of law is shown to be firmly in place and that the safety and security of South Africa and its people is ensured".
Civil unrest broke out in parts of South Africa last week following the imprisonment of former president Jacob Zuma after he was found guilty of contempt of court.
The N3 and N2 routes in KwaZulu-Natal have especially been targeted by rioters and looters.
Kelly says more than 30 trucks have been destroyed on these highways so far, according to reports.
"We would urge that it is time to bring tighter controls into the areas where the protests are raging and that there needs to be more dedicated use of the South African Police Service in ensuring these areas are brought under control and managed," says Kelly.
"Opportunistic crime needs to be stopped. The blatant incitement of violence and the destruction of the economy and well-being of all citizens needs to stop.
"We call on the Minister of Police, Minister of Transport and the President to put together an effective plan to stop these actions aimed at destroying our democracy, our economy and our fledgling new businesses that have had to endure so much under Covid."
Kelly laments the fact the truck industry is continuously being targeted by protestors.
"Why should those who have nothing to do with either aggrieved party and who are just trying to ply their business, whether owners or employees, be subjected to such violence and common thuggery?
"We have small business owners who most probably have lost everything – their business, their vehicles, as well as the loads they were carrying.
"Their employees could very well face the ogre of unemployment. This, through no fault of their own, but solely due to the wanton and indiscriminate destruction by protestors."
Kelly says the actions of the past few days will see some road freight companies close their doors permanently.
"There are cargo owners – people who pay transporters to move their goods – who are now looking at alternative routes through Namibia, Angola, Mozambique and even further north," he adds.
"We have lost the Gateway to Africa status we once held.
"We are losing more and more transit freight through the country . . . and this affects many small economies along the route – from fuel to refreshments, support and security."
Kelly says the damages borne by the freight industry are not only related to the cost of replacing vehicles, cargo, equipment and the road infrastructure that is destroyed.
"The cost to employees (in losing their jobs as companies close operations), the loss of income for their families and the support network they provide (food, housing, clothing, education, health) and the impact that this violence has on the communities they originate and live in, is almost impossible to calculate.
"South Africa's image as a safe, secure, efficient and desirable destination for trade, manufacturing, investment and development is gone.
"These trucks are carrying the food, medicines, oxygen, essentials, as well as all the luxury goods that everyone either desperately needs for survival, or that are part of the development of a better life for all. That dream is gone – unless we stop this now."