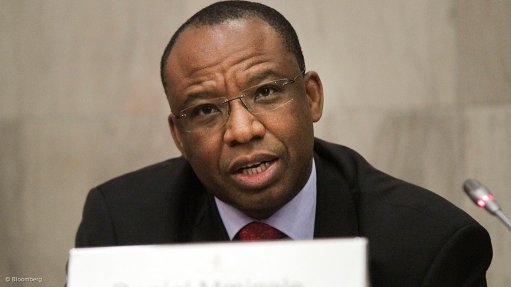 Presidential Climate Finance Task Team head Daniel Mminele
South Africa aims to pursue a financing solution that embraces a "different paradigm" with regard to the allocation of risk, as well as return expectations and investment horizons, when negotiating the terms and conditions of an $8.5-billion climate finance offer made in November by several developed countries.
A 'Political Declaration on the Just Energy Transition in South Africa', which incorporates the financing offer, was signed with the European Union, France, Germany, the UK and the US on the side-lines of the COP26 climate talks, in Glasgow, Scotland.
Processes are now under way to translate the pledge into firm transactions that will support the transition from coal to renewables in the electricity sector, while supporting coal workers and communities, as well as to lay the basis for the domestic production of electric vehicles and green hydrogen.
Presidential Climate Finance Task Team head Daniel Mminele argued during an event hosted by the Mapungubwe Institute for Strategic Reflection that innovation would be required if the declaration is to be translated into financial products and services that could meet the objectives of justice and inclusion.
While it was premature to speculate on the nature of the financial instruments or the balance between concessional loans and grants, Mminele stressed that it could not be "business as usual".
"We need to appreciate that a different paradigm may be required, [with] a different approach to issues such as risk allocation and return expectations, or investment horizons."
Any debt, he added, should be extended on terms that were more attractive than could be secured in the capital markets and without "unduly onerous reporting requirements".
The financing instruments should also reflect South Africa's unique needs and fiscal challenges and incorporate appropriate and equitable risk-sharing arrangements.
"These include, for example, risk-mitigation instruments, grants, concessional loans, and other appropriate tools, be they financial or otherwise, that contribute towards the cost of the country's transition, but without inhibiting or negatively impacting the country's national priority programmes and budgets."
The former central banker and Absa CEO also unpacked the principles that would govern South Africa's approach to the upcoming negotiations, including:
a recognition of the urgent need to invest in energy and transport solutions that will lower the country's carbon emissions to help reduce the risk of climate change, which was already negatively affecting the country, as well as future trade-related risks;
the need to translate the offer made by the international partnership group (IPG) and multilateral development finance institutions into "tangible financial support, on terms and conditions that positively contribute towards South Africa's objectives and don't create unintended consequences";
that the funding be used to build greater resilience by supporting the country's growth and job creation efforts, while emissions are reduced, with a particular emphasis on supporting the livelihoods of workers and communities that will be affected by the shift to greener energy;
that country-specific conditions are fully recognised so that South Africans are able to take ownership of and leadership in the transition;
that the pace and extent of decarbonisation is premised on available resources, which would require the IPG to offer long-term cooperation commensurate with the timeline of South Africa's transition, which is likely to endure for 30 years;
that pragmatic short-term actions be prioritised, particularly ahead of COP27 in Sharm el-Sheikh, Egypt, at the end of the year, while a longer-term programme is finalised;
that the package supported South Africa in its ambition to raise gross fixed capital formation from about 15% of gross domestic product to 30%, in line with the country's National Development Plan;
that investment be sequenced such that the issue of electricity security of supply is given priority even when supporting complementary investment into electric vehicles and green hydrogen; and that
the just energy transition be pursued as a partnership between government, business, labour and civil society so that the international support can be used to mobilise domestic resources.
"These principles … should then manifest in a financing package and investment plan through the partnership that addresses South Africa's fiscal realities and priorities," Mminele added, noting that the $8.5-billion should be viewed only as a starting point give that scale of the investment that would be required over the coming three decades.
"The offer is not the magical pot at the end of the rainbow.
"At best, it is an initial contribution to a national effort."
Discussions were currently under way with the IPG with a view to assessing the funding elements that could be provided under that partnership, while South Africa finalised its investment plan.
The National Treasury's assets and liability management team had been drawn into the task team to analyse the financial implications on the fiscus and to ensure that it was both affordable and sustainable.
The Presidential Climate Finance Task Team and IPG negotiators were being supported by a secretariat, headed by National Business Initiative CEO Joanne Yawitch, which was coordinating several technical working groups.
The task team reports to an inter-ministerial Cabinet committee, chaired by President Cyril Ramaphosa, and Mminele said his task was to present final recommendations on an investment plan and a financing package for Cabinet's approval.