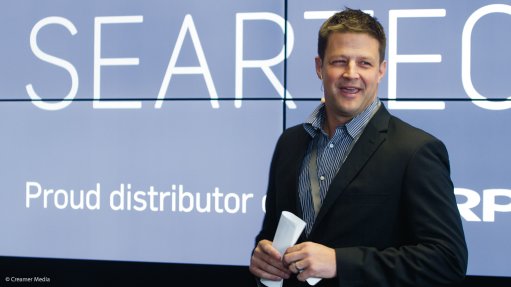 Bob Skinstad
Photo by: Duane Daws
Although CEO Mark McChlery and chief marketing officer Bob Skinstad likened themselves to children in a playground when taking on the task of "re-engineering and repositioning" the Seartec brand, the "young, dynamic and enthusiastic guys" were like proud fathers on the day of the relaunch, nine months after being appointed executive directors.
"Through this whole process, we really got in there and rolled up our sleeves from the start to understand the nuances of what is already a large company with 12 branches countrywide, 425 resellers and just under 10 000 customers using our products. So, the foundation was already set.
"We were in the right position to take something that already existed and inject our own DNA and enthusiasm into it," said McChlery at a media briefing on July 4 at Seartec's new offices in Bedfordview.
McChlery and Skinstad, both born in Zim-babwe, were appointed by JSE-listed Seardel Investment Corporation group CEO Stuart Queen – the adult supervision – in 2013 to reposition and re-engineer the Seartec brand.
The 41-year-old office automation company is a distributor of technologies – from calculators to office copiers – from Japanese multinational corporation Sharp. However, two other businesses, Limtech and Officebox, have been acquired to operate under the company since McChlery and Skinstad joined Seartec.
Limtech, a supplier of closed-circuit television, access control and security solutions, and Officebox, an online supplier of stationery and office products, allow Seartec to offer a greater range of integrated services, consumables, software and hardware solutions to its clients.
Seartec is currently working on introducing Sharp's Plasmaclustor technology, which uses positive and negative ions to purify air, onto the South African market, while also establishing a data centre hub in Cape Town, in the Western Cape, McChlery noted.
"We believe that data is the nexus of the solution. Technology is hardware- and software- driven, but how you use it is the fundamental aspect we need to focus on. The data centre is going to be a slow and organic project where we reach critical mass milestones and, once we hit those, we start innovating and diversifying our offerings through those," he said.
McChlery and Skinstad have high hopes of challenging the South African technology industry from the inside out and have adopted a new ethos of 'Solving Smart', because they view Seartec as a technology company rather than a product company, offering solutions to businesses and consumers.
"As a technology provider, we need to be in a place where we can adapt and transform," McChlery said at the launch, with Skinstad adding that the duo wanted to build a sustainable business, not necessarily the one that sells the most or the cheapest.
"We want to appeal to a market that favours value over cost, so customer retention and relationships are key. Quick wins don't mean anything," said the former Springbok rugby player.
McChlery and Skinstad have a working history, having met and worked together at Itec Innovate, an Itec Group company. In 2011, McChlery took an equity stake in Itec Innovate, becoming MD, while Skinstad became the Itec brand ambassador in the same year.
McChlery (36), who relocated to South Africa from Zimbabwe in 1988, said it was a pleasure working with Skinstad, with whom he "shares a lot of common interests".
McChlery started his career as a sales representative for Toshiba in KwaZulu-Natal, moving to Canon for seven years, before returning to Toshiba, where he led Toshiba Western Cape to being one of the top three Toshiba branches in South Africa.
The father of three aspires to create a sus-tainable legacy for his children.
Talking about his transition from the world of rugby to business, Skinstad (38), married and a father of four, said he had always been curious about business, starting little businesses from around 20 . . . 21 years old.
"I [also] cut my teeth in the hospitality industry and I worked for the advertising agency Saatchi & Saatchi for three-and-a-half years. So I understood [the business world] and that made the transition easier.
"There are a few things you can draw across, such as talking to people and leading groups, but I think it is also a personal drive. If you want to succeed, it is more about you than anything else. Specifically in rugby or business, no one is going to carry you," said Skinstad, who represented the Springboks 42 times, scoring 55 points.
However, business has not won him over entirely, Skinstad is still associated with rugby. He is the International Rugby Business Network's South African chairperson and no stranger to commentating, being a part of the SuperSport broadcast team.