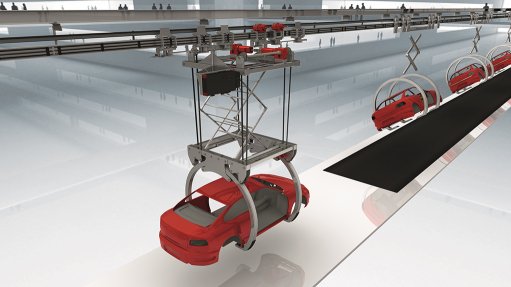 MAXOLUTIONÒ SEW-Eurodrive successfully implemented the MAXOLUTIONÒ solution for a customer in the automotive manufacturing sector
The MAXOLUTIONÒsolutions from drive and control specialists SEW-Eurodrive are fully integrated and customised technologies that automate, integrate, upgrade and streamline your existing production processes while still allowing for future technology to be incorporated.
"Our strength is in our expertise and knowledge of assessing and implementing the right solution for your system objectives," says SEW-Eurodrive MAXOLUTIONÒ engineer Dylan Enslin.
At SEW-Eurodrive, the technologies behind MAXOLUTIONÒ solutions are extremely advanced and take into consideration that industry and its processes are constantly evolving, recognising the requirement for future upgrades and adjustments.
SEW-Eurodrive can guide customers on whether they need to source or enhance automated guided vehicles (AGVs), electrified mono systems (EMS) or replace or upgrade motors and gear boxes. This includes the project planning stage through to installation. SEW-Eurodrive ensures that the customised software meets requirements, that communications between machines is configured correctly and that customers' entire production processes are seamlessly automated, integrated and optimally calibrated for best performance with regard to Industry 4.0 and the future, says Enslin.
SEW-Eurodrive believes that exchangeable modules are the future of factories. The MAXOLUTIONÒsystems enable the customer to react swiftly to changes in market requirements. A factory can evolve into a 'smart factory' with new, flexible and adaptable modular structure where components and machines are added, duplicated or removed. This provides greater flexibility for production processes to be adjusted, when needed, in the most efficient way possible.
SEW-Eurodrive was recently commissioned to develop a machine automation project with a customised MAXOLUTIONÒsoftware solution. The pre-project assessment included motor and motor size requirements, gear box configurations, what electronic capability was needed to drive the specified motors and synchronised motor capability. These were critical factors that all needed to be factored into the design phase of the automation project.