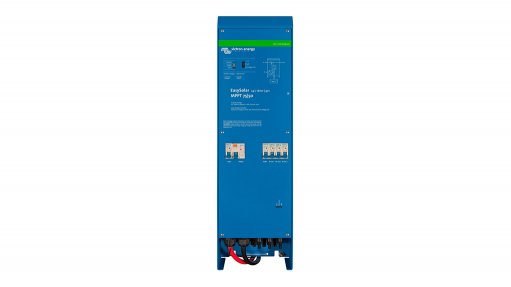 POPULAR DEMAND The Victron EasySolar 1600 solution generates sufficient power to run the critical components of a home for up to 48 hours
Alternative energy products distributor Enerjetic expects a 30% to 35% increase in demand for the Nobel solar water heater (SWH) and Victron Energy photovoltaic (PV) solutions this year, as a result of unstable electricity supply significantly driving solar energy product demand.
"While Enerjetic will supply about 200 Nobel systems a month, for January and February, the company has noted month-on-month supply demand growth of about 10% since January 2014," Enerjetic director Peter Strydom tells Engineering News.
The Greek-manufactured Nobel domestic thermosyphon SWH range, with a capacity of 100 ∙ to 300 ∙, and the Nobel forced circulation commercial range,including 500 ∙, 800 ∙, 1 000 ∙ and 2 000 ∙ systems, are all available locally.
Each of these comprises separate solar panels, stands and tanks and can be installed over a variety of options. While its main energy source is solar energy, it can be integrated with alternative energy sources such as coal-fired electricity, heat pumps or gas.
In addition, Strydom notes a similar trend for the Victron Energy PV system that the company started distributing in October last year.
These systems are available from a relatively affordable R15 000 to about R115 000 for high-powered solutions.
The Victron EasySolar 1600 is the most popular model, which comprises a turnkey solution for most residential owners. This solution generates sufficient power to run the critical components of a home for up to 48 hours, based on the power stored in the batteries.
All these solutions can be complemented by the extensive Keri light-emitting-diode lighting offering.
All power solutions (battery backup and off-grid) are European-manufactured offerings comprising the Dutch-manufactured Victron inverter/chargers, the German-manufactured Antaris 250 W solar PV panels and the Bulgarian-manufactured Monbat 170 Ah batteries.
"The Victron system's reputable quality allows for consumer peace of mind and provides a way for consumers to become autonomous, reducing their dependence on the national grid," Strydom says.
He stresses the need for consumer independence, noting that this will be beneficial to the solar PV and SWH systems' platforms.
All systems are supported by European quality certification and are accepted within State-owned power utility Eskom's Standard Offer Rebate Programme.
"Since Enerjetic started supplying the system into the market, it has noted a fourfold increase in terms of its sales," Strydom says, noting that the company has completed more than 50 installations since the system's official introduction onto the market, which is expected to grow significantly in 2015.
Enerjetic has an order book for another 40 systems, which exclude January sales.