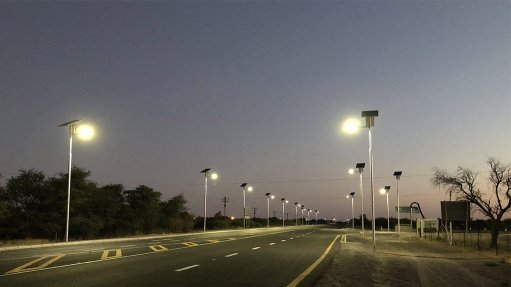 ILLUMINATING The solar installation at the Black Rock mine has made the intersections leading to the mine more visible and safer
Lighting manufacturer BEKA Schréder's LEDlume-midi 36/55W luminaire, used in solar lighting solutions has been used at four intersections en route to iron-ore and manganese mine Assmang's Black Rock mine, in the Northern Cape.
"The intersections leading to the different sections of the mine have always been in total darkness. To make pedestrians and motorists feel safer, it was decided to illuminate these intersections," says BEKA Schréder senior technical sales representative Quintin Etsebeth.
Owing to the isolated location of the mine, a complete electrical reticulation would have been too expensive. Thus, a solar streetlighting solution was installed.
The LEDlume-midi 36LED/55W luminaire, mounted 8 m above road level, was chosen for this project. The luminaire installations with its complementing electrical works took one month to install.
"This environment-friendly, solar-powered light-emitting diode, or LED, streetlighting installation requires almost no maintenance and zero running costs. The solar panels and battery boxes are also secured by tamperproof screws to prevent theft," he says.
He adds that the BEKA Schréder solar module has been engineered and designed to operate reliably at a high light-output of over 12 h to 14 h. It has sufficient autonomy to cater for up to two continuous overcast or rainy days to continue its reliable night operation. The high-quality solar lighting system contributes to green and sustainable energy source initiatives.
Etsebeth highlights that the LEDlume-midi is designed and manufactured in South Africa, thus taking Africa's environments and conditions into account. This is evident in the luminaire's design, with a unique thermal sensor technique monitoring the temperature of the LEDs on the printed circuit boards.
Once a critical temperature is reached, which could affect the life of the LEDs, the current is reduced to ensure safe operating temperatures for the LEDs. This safeguards the LEDs and ensures that the long lifetime of up to 100 000 h is achieved. The slim, aesthetic design is optimised for LED characteristics.
BEKA Schréder locally develops and manufactures energy efficient LED lighting products designed to be suitable for local conditions.
"We are very proud to be associated with engineering firm FCE Consulting Engineers, Black Rock mine, and the Kimberley Roads Department in providing a successful solar lighting solution for this project," says Etsebeth.
He believes that the client has realised that solar lighting is a viable alternative, and hopes that the ease and efficiency of this installation will pave the way for further business.