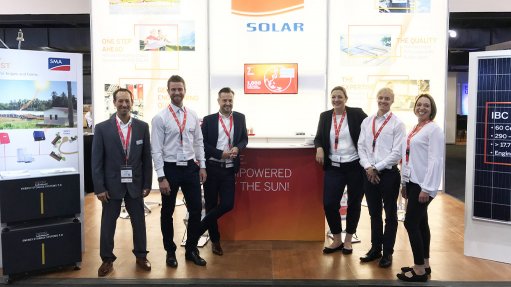 SUPPORT SYSTEM Solar photovoltaic in combination with storage products can provide a reliable energy source
Solar photovoltaic (PV) technology, in combination with energy storage products, can offer solutions to some of South Africa's challenges, which include load- shedding, rising power prices and no grid availability in certain areas, says solar PV and energy storage system provider IBC SOLAR South Africa MD Daniel Haitzler.
Solar power already comprises the biggest share among renewable-energy sources and will become the biggest energy source in this respect in a few years, according to Haitzler.
He mentions that South Africa has excellent conditions for solar power and IBC SOLAR encourages public stakeholders to intensify procurement of solar PV with attractive feed-in tariffs.
"Such a scheme could also support the country to tackle its current power supply challenges."
Using PV systems is advantageous if there is a perfectly reliable grid available. "Solar is an excellent add-on technology to provide sustainable power," Haitzler points out, adding that it is also becoming a more cost efficient technology.
If there is an unstable grid, solar PV, in combination with storage products, can also support or even provide a reliable energy source that was not there before, says Haitzler.
Moreover, he points out that Africa is an attractive solar market with rapid growth and high demand for self-consumption systems with energy storage solutions.
The company focuses on commercial and residential systems of up to 5 MW. As a manufacturer-independent system house, the local subsidiary of the Germany IBC SOLAR AG sells solar systems to commercial engineering, procurement and construction (EPC) and installation companies with a high service level.
"We serve the domestic and Southern Africa market . . . exporting to Namibia, Botswana, Zimbabwe, Zambia and Malawi."
Although the company does not get involved in projects directly, Haitzler notes that, last year, the company supported one of its EPC clients in Zimbabwe with the commissioning of a 400 kWh battery bank in combination with a 190 kWp solar PV system.
Haitzler mentions that IBC SOLAR will make its third appearance at this year's African Utility Week event and will exhibit at Stand B14h. The company is looking forward to interacting with clients at the event and seeing the latest developments in the industry.
"We have been present with an info wall inside the German Pavilion in the previous years and will do so again this year."