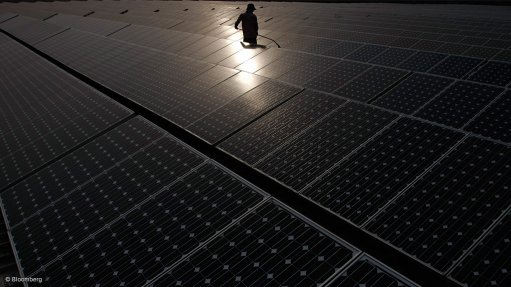 AGGRESSIVE TAKE-OFF Powermode's average monthly installations have increased from about seven to more than 15 installations, for this month
Photo by: Bloomberg
Since power protection and management solutions provider Powermode forecast a significant demand increase for solar photovoltaic (PV) rooftop solutions for local industry in August last year, the company registered "serious" growth in the solar PV market.
"Powermode is witnessing a significant demand increase early this year, with an aggressive take-off in the market," Powermode CEO Jack Ward reiterates, noting a doubling in solar PV inquiries and successful proposals.
He highlights that the company completed a grid-tied solar PV installation, which can generate about 130 kW, for a small office block in November, and a 90 kW system for another office park in December, last year.
Powermode's solutions include grid-tied inverters with 250 W to 300 W of polysilicon panels, as well as industrial solar PV rooftop installations that range from 20 kW to 350 kW.
While the company also provides grid-tied and hybrid solar PV systems to the domestic and commercial rooftop environments, Ward notes an additional demand increase for its hybrid solar PV systems, which include the Soltra GTB 3000.
Key features of the Soltra system, which can be used as a back-up power source during power outages, include an integrated charge controller that can operate during three modes to ensure uninterruptable power supply. These modes are as grid-tied; as a grid-tied unit with battery backup, in a hybrid configuration; or as a standalone, or off-grid, hybrid unit.
"Powermode's average monthly installations have increased from about seven to more than 15 installations, in January," Ward says.
Although Powermode mostly provides the hybrid systems as a 3 kW unit, the company has a three-phase 10 kW system that can be applied to smaller industries, which have certain processes that cannot be delayed or stopped. In light of this, a hybrid system becomes preferable over a generator, Ward believes.
The company has also received interest from the mining industry in Tanzania and the Republic of Congo for its solar PV diesel hybrid solutions.
Ward attributes the solar PV demand, as well as the increasingly receptive approach of domestic, small and commercial industries towards this type of power generation to several factors. These include the rising economic viability of these systems, current power generation and outage challenges that the country faces, predicted electricity price increases, shortage in supply of the required amount of power and cost reduction incentives.
Nevertheless, while he points out that South Africa has not achieved grid parity yet, where the levelised cost of solar power equals the levelised cost of grid power, with State-owned power utility Eskom's electricity prices still being among the cheapest in the world, he expects this to change.
Ward further notes that with the general industry downturn in the past year, several companies have only been able to enhance their sales by cutting their cost margins.
"These companies have reached the stage where the only way to increase their profit is by cutting costs – and with electricity being a significant cost component, these companies introduce grid-tied solar PV," he points out.
Moreover, Ward predicts significant infrastructural and legislative changes to the local power landscape in the near future, envisioning either public-private partnerships for power generation, transmission and distribution; privatisation of Eskom's power stations; or "more aggressive" independent power producer programme type tender processes, whereby large companies will be induced to provide energy through solar PV or gas to supplement the generating capacity demand.
Meanwhile, Ward reiterates the necessity for renewable-energy incentives.
Having acknowledged the backing effects from Eskom's standard offer rebate programme, currently suspended; the Section 12L income tax rebate, which provides an opportunity for individuals and companies to receive tax reductions in terms of energy efficiency – at 45c for each kilowatt-hour saved; as well as the Department of Trade and Industry's manufacturing competitiveness enhancement programme, Ward stresses that these should be increased or expanded upon to encourage further energy efficiency.
"If 30% of local small industry adopts some form of solar PV, it can significantly support self-generation and the power requirements for the country, which is forecast to have a 2% economic growth rate, as well as encourage sustainable skills development and employment opportunities," Ward concludes.