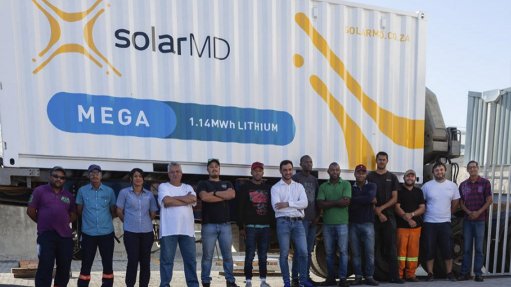 Interest in affordable energy-storage monitoring amid current power constraints and the green energy drive has been exponential in driving the uptake of the LoggerV2, says local lithium-ion battery storage solutions manufacturer Solar MD.
"Demand is increasing for Solar MD's energy-storage systems, as production facilities seek battery-storage solutions that can take some or all of their activities off the grid. Others are looking for grid-connected battery systems that can help them bridge the gap during power outages," says Solar MD founder and CEO Kaloyan Dimov.
"The search for decentralised energy solutions is growing fast and gained traction when Stage 6 load-shedding hit South Africa last year," says business sustainability consulting firm Synergetics Sustainable Solutions director Teri Kruger.
She adds that energy-intensive electricity users, operating in industries such as manufacturing, mining and agroprocessing, are trying to "plug the gap" so they can keep their business running and reduce their capital losses.
Consequently, there is greater interest in energy storage and the monitoring required to ensure that available energy is used as efficiently as possible, he notes.
Solar MD, which is responsible for LoggerV2's hardware and software design, introduced the device to the South African market in 2015 to monitor and control its energy-storage products. Solar MD produces over 36 MWh/y in lithium-ion batteries and expects this to increase to 60 MWh/y in the short term.
The LoggerV2 includes serial and Ethernet ports for the reliable and secure transmission of data to Solar MD's mypower24 management platform – furnished with a simple user interface – and record events from third-party devices, such as inverters, energy meters, weather stations and other energy devices.
Dimov explains that the Internet-enabled LoggerV2 provides quick and simple communication with automatic device discovery and connection, allowing for fast plug-and-play commissioning.
The device, which comprises network provisioning with dynamic Internet Protocol addressing, further offers remote control and management, including firmware upgrades over the Internet using mypower24 advanced accounts.
"The lightweight solution differentiates itself as an intermediary device that integrates various components in a solar or exiting energy systems on one platform, facilitating remote data acquisition and device control," explains Dimov.
Solar MD has the capacity to produce 2 000 units of the LoggerV2 a month, with manufacturing, comprising the assembling of single-board computers and programming them accordingly, taking place in Cape Town.
The device comprises 80% locally sourced components, with the balance of components incapable of being manufactured locally, states Dimov, highlighting that the company employs strict quality-control procedures, whereby each unit is plugged into a live solar system to ensure it is operating accordingly.
Solar MD's footprint covers 15 countries, where units have been supplied for various applications, ranging from mini-grid solutions that supply power to villages to large commercial and residential projects.
LoggerV2 provides battery and/or inverter management and customer data management for residential, commercial, and utility photovoltaic, battery and hybrid systems, as well as supervisory control and data acquisition integration.
This article was first published by Creamer Media's Product Portal, to advertise on the Product Portal please email advertising@creamermedia.co.za and to subscribe to receive the Product Portal's weekly email newsletter please email subscriptions@creamermedia.co.za.