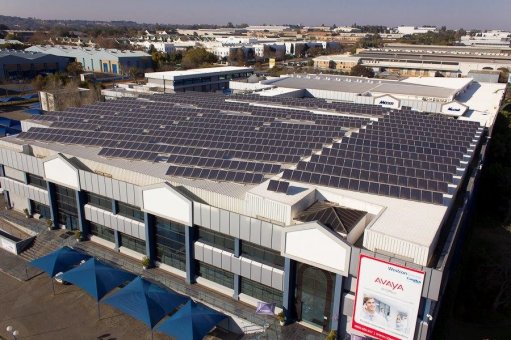 CONSCIENTIOUS COMPETENCE Companies are not expected to reduce their energy use by switching off machines. Instead, machines must be run in an energy-saving way using solar power
T urnkey energy solutions provider Green Habitat saved information technology and communications company Mustek R82 000 in July last year by installing a 210 kWp solar solution.
The saving is as a result of the solar solution reducing Mustek's energy and demand charge for the month, with a further average of R45 000 expected to be saved every month onwards.
The solution was custom designed for Mustek's 4 500 m2 roof profile, in Midrand, and comprises more than 900 photovoltaic (PV) solar panels, says Green Habitat CEO Maurits Perold.
He says that solar power is a "no-brainer", as there are significant statistical graphs compiled by Green Habitat demonstrating the savings achieved when using solar power, which can be viewed by the public on the company's website and are supported by independent companies.
Perold adds that the public needs to be made aware of the various initiatives that promote solar energy.
He explains that the Mustek solution is valued at just under R4-million; however, future projects will cost a company just under R3-million. He highlights that the PV panels have a 25-year life span and yield a five- to seven-year return on investment, owing to little or no maintenance.
The turnkey project consists of robust PV panels and inverters imported from Germany, while the aluminium support structure and cables are manufactured in South Africa.
The company will also install an 840 kWp solution, in Germiston, which will be commissioned by the end of March, says Perold, adding that Green Habitat have already installed a 175 kWp solar rooftop at the same premises.
Section 12L of the Income Tax Act, 1962
Department of Energy director-general Nelisiwe Magubane says the amended regulations, in terms of Section 12L of the Income Tax Act No 58 of 1962 came into operation in November 2013.
The Act enables a tax benefit of R0.45/kWh saved over a tax year. These savings are based on a baseline established at the beginning of the year and any initiative that reduces consumption will result in this benefit. This means that a 100 kW PV system installed at the start of the year will net an additional R95 000 in tax benefits at the end of the year.
"Allowing for energy efficiency savings through the tax incentives, as outlined in regulations for businesses, based on measured and verified energy savings through registrations with the South African National Energy Development Institute (Sanedi), will provide the means for energy-savings improvements" says Magubane.
Businesses have to register with Sanedi to qualify for the tax cuts.
The legislation makes provision for the Finance Minister, in consultation with the Energy and the Trade and Industry Ministers, to develop and publish energy-savings regulations.
Companies are not expected to reduce their energy use by switching off machines. Instead, machines must be run in an energy-saving way using solar power, notes Perold.
Further, the Department of Trade and Industry (DTI) promotes structural transformation, creating a dynamic industrial and globally competitive economy. It broadens participation in the economy to strengthen economic development and continually aims to respond effectively to the energy needs of South Africa's citizens.
In that vein, the Manufacturing Competitiveness Enhancement Programme (MCEP) was launched by the DTI, owing to the difficulties involved in making investment decisions amid uncertainty.
The MCEP is a support scheme that offers manufacturing companies incentives to raise their competitiveness and retain jobs and has a budget of R5.8-billion over a three-year period.