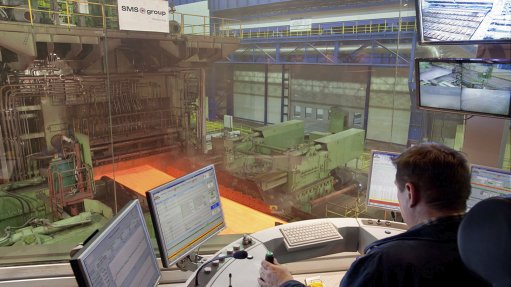 DIGITAL COMMITMENTS The Manufacturing Execution System and Genius Condition Monitoring System illustrate the company's commitment to digitalisation and smart plants
Stainless steel technical services and products provider SMS group has developed a specialised roll for its stainless steel plants.
"Reliable and precise flatness measurement is of paramount importance. These rolls carry the brand name X-Shape and are part of the X-Pact product family, which represents innovative solutions in electrical and automation systems from SMS group," says SMS group key accounts manager Manshil Singh.
In addition to constant strip thickness, the flatness of a cold-rolled strip is the most important quality feature of a stainless steel roll, he adds.
SMS group's technological control systems are designed to ensure the flatness of the strip under adverse conditions and at rolling speeds of up to 2 000 m/min with close tolerance across the entire strip width.
"For this purpose, every closed-loop control system requires measuring systems that determine the actual condition and give an account of the deviations of the actual value from the desired target value of a process variable," he states.
The X-Shape roll technology is based on the measuring principle – developed by German research institute VDEh-Betriebsforschungsinsitut, in Dusseldorf – of introducing force sensors into a measuring roll body through axial bores and securing them in place.
The position of the sensors and the width of the measuring zones can be selected based on the minimum and maximum strip widths.
"The highly sensitive sensors detect even minimal variations in strip tension across the strip width by measuring the vertical force components of the strip tension. "The strip tension distribution is the measure for the product flatness," states Singh. These rolls are also frequently used in other steel and aluminium plants that have high product quality mandates.
Digitalisation System Solutions
Stressing the growing presence and importance of Industry 4.0, SMS group has developed strategies for advancing digitalisation in the steel industry.
Also changing are external framework conditions for stainless steel production, such as the costs for raw materials, energy and personnel, as well as statutory regulations, such as environmental protection laws and legal standards, says Singh.
He emphasises that the focus of digitalisation for stainless steel plant operators pertains to the smart steel mill, which ensures intelligent and autonomous steel production.
"This involves the interconnection and collaboration of humans and machines in dynamic production processes that adjust to optimum parameters in real time. The Manufacturing Execution System (MES) and Genius Condition Monitoring System (Genius CM) from SMS group are two examples of our commitment to digitalisation and smart plants," he states.
MES 4.0 is a complete modular solution for the planning and control of the entire metallurgical process chain and all production facilities. The system also integrates with an existing information technology landscape.
Singh highlights that the solutions of SMS group focus on resolving significant future problem areas, including the customisation of products, with high-quality minimisation of lead time in production and punctual delivery. Another focus area is the efficient use of resources, such as personnel, materials and energy. Stock reduction is also a future problem area which the company is focusing on.
"Our Genius CM is a modular online screening method for plants. It tracks and documents the current condition of critical components and parts subject to wear. What sets Genius CM apart from traditional inspection and maintenance methods is the permanent monitoring of plant parts and machine learning.
"That means continuous, live information for you about component status, and warnings whenever you need to take action," states Singh.
He mentions that this feature helps to optimise the quality and availability of produced stainless steel. Sensors are installed by SMS group at all vital plant components along the process chain.
These sensors constantly transmit measured data to Genius CM, including torques, vibrations, temperatures, forces, oil flow, particles and viscosity.
Genius CM is online, with cloud-based smart alarms for mobile devices to improve overall equipment efficiency.
"SMS group provides digitalisation solutions for clients to increase their shareholder value through sustainable increase in profits while meeting the key objectives of improved planning, condition and product quality," states SMS group MD Pieter Bezuidenhout.
Moreover, owing to the global demand for oil and gas, deeper drillings are becoming more prominent. Depending on the parameters in the gas stream, the use of low-alloy steel, high-alloy stainless steel, nickel-based alloys or titanium alloys are necessary.
SMS group offers customised products for manufacturing high-alloy oilfield tubulars. Hot-finished, high-alloy oilfield tubulars can be produced on extrusion lines in a diameter range of 33.4 mm to 323.9 mm.
Cold-rolled tubes in the diameter range 5 mm to 280 mm can also be produced on cold pilger mills.