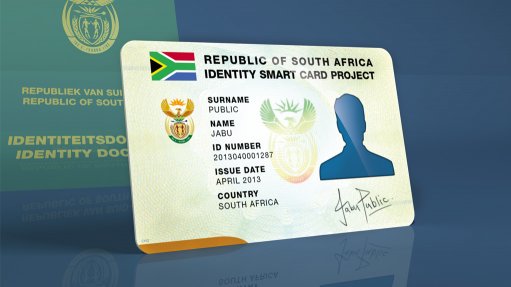 South African citizens who have been issued with the new smart identity document (ID) card by the 2014 national election would be able to use it to vote, the Independent Electoral Commission (IEC) has said.
This came as Cabinet released a statement on its meeting of June 26 confirming that the phased roll-out of the smart ID card would be launched on Nelson Mandela Day – July 18.
In a written response to a Parliamentary question by Democratic Alliance Member of Parliament Masizole Mnqasela on Friday, the IEC explained that it had been consulted during the design phases of the smart ID card specifications, during which it had requested that the card contain a one-dimensional barcode with similar information as that on the current green ID book.
This would enable the portable barcode scanner unit, which is currently used by the IEC in both the registration and electoral processes, to read the new ID card, which had a microchip to house the necessary biometric data unique to every individual.
A test conducted by the IEC, in conjunction with the Government Printing Works, had confirmed that the barcode on the new ID card could be read by the technology in the portable scanning unit.
Moreover, as there was no voter registration information that needed to be stored on the smart ID card, the IEC needed only to verify the authenticity of the voter by confirming that the ID number on the card corresponded with the ID number of the voter on its voter's roll.
The commission would also perform "face value authentication" by comparing the appearance of the voter against the photo on the smart ID card.
"As a result, the new smart ID card will have both the one-dimensional barcode, which houses the ID number of the cardholder and the two-dimensional barcode, which stores all the demographic information of the card holder," the organisation said.
To ensure standardisation, the Department of Home Affairs (DHA) would, in the medium term, retain use of the one-dimensional barcode in addition to the two-dimensional barcode.
The IEC planned to replace the existing barcode scanning technology in the 2016/17 financial year, which presented an opportunity to integrate the two-dimensional technology thereafter.
The DHA said the smart ID cards were aimed at cutting down on the fraudulent use of fake or stolen IDs, as they would be nearly impossible to duplicate or counterfeit.
Home Affairs Minister Naledi Pandor last month became the first person to receive a smart ID card.