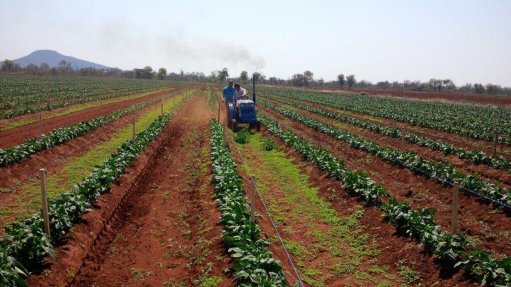 MAXIMUM BENEFIT Hinomoto's small-scale tractors ensure that farmland is used in the most efficient way possible, maximising yield sizes
While many medium-sized farms have been unable to weather the challenges facing the South African agriculture industry and have consequently been absorbed by larger commercial farms, smaller farmers are proving that it is possible to generate a sustainable income from a modest operation through the use of effective farming methods, says tractor supplier Hinomoto marketing director Paul van Staden.
In light of this, Hinomoto is seeing increased demand for its line of tractor implements – including ground drills, backhoes, front-end loaders, rippers, rotivators, bedformers, planters, sprayers and trailers – which have been designed specifically for intensive farming on smaller fields and in hothouses.
Van Staden notes that agricultural input costs in South Africa are on the rise, with market prices failing to keep up. He adds that, as a lot of the input products are imported, the rand volatility is making it difficult for farmers to implement long-term budget planning. Labour costs are also increasing year-on-year. Sustaining profits has, thus, become difficult, putting infrastructure expansion plans on hold and reducing the ability of medium-sized farms to increase their operations and, consequently, their turnovers.
However, Van Staden points out that, globally, small-scale farms are proving far more resilient, with a study done by the University of Minnesota last year indicating that more than half of the world's food is being produced by small farms.
He highlights that a lot of traditional maize and sunflower farmers are, for example, planting smaller fields with "cash crops" such as vegetables, which can be quickly and easily harvested and sold. This helps with cash flow until the main crops can be harvested.
"In Africa, the focus has traditionally been on maize and soya, but this is changing to include vegetables as well. "We see a lot of female farmers in rural communities, especially, getting involved and making a success of their farming."
Hothouses and shade net farming are becoming increasingly popular among these small-scale farmers, as the climate can be controlled to a certain extent by either opening or closing air vents to raise or lower the internal temperature of the hothouse or tunnel. Larger units can also be regulated by boilers and water and fertiliser can be delivered to plants with an irrigation system that can calculate the exact amount of water and fertiliser needed for each type of plant.
Van Staden explains that the manufacture of Hinomoto's implements began in 2006, born out of frustration that all the tractor-driven agricultural implements available on the market were either too big or too heavy for the company's compact tractors. "Having a tractor, but only a few implements, was keeping our customers from using the machine to its full potential. From a sales perspective, it made sense to give the tractors more applications so that they would appeal to a wider market."
Hinomoto supplies 22 different implements that work with the company's tractor models to facilitate the hothouse farming process from beginning to end. The company also assists with the preparation of soil for planting and the construction of hothouses and similar structures, as well as plant maintenance and harvesting. The company's equipment has found application in the vegetable and flower farming sectors by both commercial farmers on open field vegetable farms and community and development farmers on mixed farming land.
"Demand for our products is growing at a good rate as there are a lot of new and existing farmers using our units to get their cash crops started. These units allow starter farmers to get going without breaking the bank, but with effective equipment that can make their operations commercially viable in time."
He highlights that investment in hothouses and shade net farming structures is gaining traction among small-scale farmers as this type of farming ensures higher yields from the same area as other methods and, in most cases, an extra planting cycle can be facilitated in a year.
"Our products are designed to use as much of the covered area as possible and the implements are easy to connect and disconnect. "The tractor operation can also be done by fairly inexperienced operators, making it ideal for training upcoming farmers."
This is crucial, as skills development is an integral part of Hinomoto's business, with much of the company's equipment supplied to community development programmes and all clients provided with basic training when the products are delivered. In addition, Hinomoto has been registered with the Manufacturing, Engineering and Related Services Sector Education Training Authority of South Africa as a tractor mechanic training facility since 2004.
New Crops for S Africa
Hinomoto is currently involved in the Moringa4all project in Limpopo, which aims to train upcoming farmers in the region to grow Moringa crops. Traditionally grown in Asia, Hinomoto project consultant Gerhard Abrie notes that research has indicated that there is significant global demand for organic Moringa, which is used as a vegetable supplement for both humans and animals.
Hinomoto has supplied small-scale tractors to the farmers, ensuring that space is used in the most efficient way possible and that yield sizes are optimised. "The project is providing widespread economic stimulation for the rural community in the area and having access to the right equipment has been paramount in its success," concludes Abrie.