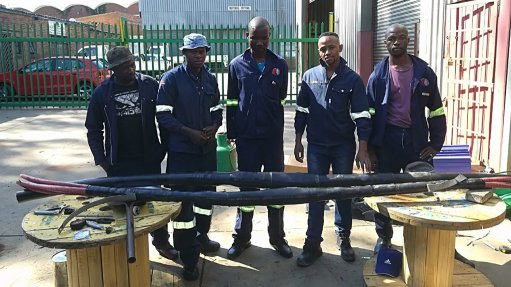 CALL FOR SKILLS DEVELOPMENT Tank Industries identified an industry need to increase the level of knowledge and skills, which led to the company forming a training academy
There has been a marked increase in the amount of failures of medium voltage (MV) cable joints and terminations in South Africa, says manufacturer and supplier of cable accessories Tank Industries.
The company states that, for installation of house wiring, a formal trade test is mandatory; however, no formal test is required for MV jointing and terminating. It states that the increased failures of MV cable joints and terminations can be attributed to incorrect installation.
In South Africa, there is a trend for utilities to switch from paper insulated lead covered (PILC) cable to cross-linked polyethylene (XLPE) cable for various reasons and because of this changeover within the cable market, a different type of skills set is required.
This also creates an increased requirement for transitions joints, whereby new XLPE cables need to be connected to existing PILC cable networks, a typical phenomenon for the first period within such a change.
Couple the above change with the increasing global competitiveness and more modern switchgear connections used in South Africa and it is evident that the need for installations to be done correctly from the offset must become an industry prerequisite.
Tank Industries identifies a need to increase the level of knowledge and skills of its own personnel and customers and, as such, started a training academy to cater for the instruction of low voltage (LV) and MV cable jointing and termination methods and procedures. The company states that the facility and the courses have become recognised by the industry as one of the leaders in the field.
The course instruction promotes general principles and uses internationally and nationally recognised experts in their fields to transfer their knowledge to attendees. The curriculum makes use of SANS 10198-9, -10 and -11 as its base and learners are tutored in the theoretical as well as practical aspects of jointing and termination of cable and cable accessories. Assessment and moderation are carried out and performed by trained and experienced professionals.
In order to control the process and confirm the training outcome, external moderation is performed by government's Energy and Water Sector Education and Training Authority (EWSETA).
Tank Industries enthuses that results of the training courses over the years have been very encouraging and have led to the courses being considered as a prerequisite for contractors contracted to work on the national and municipal networks.

Training classes cater to different entrance levels from National Qualifications Framework (NQF) Level 2 to NQF Level 4. The training facility is an accredited EWSETA Skills Development Centre specialising in MV and LV cable jointing and termination methods.
The training facility offers a theoretical and practical training course in the jointing and termination of LV cables in accordance with SAQA US ID 258921, as well as a theoretical and practical course in jointing and termination of MV cables in accordance with SAQA US ID 259187.
All assessments cohere to SANS 10198. Training is done under the accreditation of EWSETA and NQF Level 1 to 4. Procedures have been established for the training needs of the technical personnel to meet the standards of SANS 10198 and SANS 1332/NRS 053:2008.