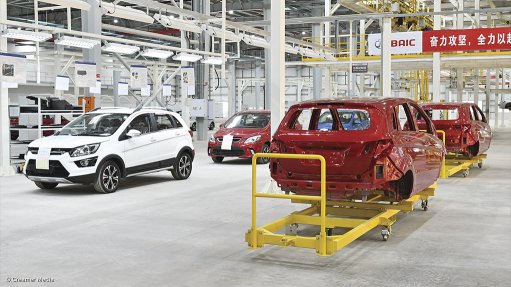 The BAIC plant in Coega
Photo by: Dylan Slater
Semi-knockdown (SKD) production is "about to start" at the BAIC South Africa (SA) plant in the Coega Industrial Development Zone, in the Eastern Cape, says Industrial Development Corporation (IDC) Automotive and Transport Equipment head Joy Balepile.
The IDC is a 35% shareholder in BAIC SA, along with China's Beijing Automotive International Corporation, which holds the remaining 65%.
Construction of the office block, as well as the assembly hall and body shop have been completed, notes Balepile, with the complex having secured a certificate of occupation from the Nelson Mandela Bay municipality.
SKD production will start with the X25 sports-utility vehicle and D20 small car, both launched in 2017 already.
Balepile says the BAIC plant – which promised R11-billion in investment when announced in 2016 – will be concluded in a phased manner.
This first phase will involve SKD production, which is essentially to assemble a limited number of large, imported, already assembled component subsets into a completed vehicle.
Recruitment, training and upskilling of staff will happen during this period in preparation for full production.
The next phase will involve the construction of a 21 000 m² paint shop, which has already started, says Balepile.
"This should be ready in November, next year, which will allow the plant to move from SKD to completely knock-down (CKD) production."
CKD production typically sees vehicles being assembled from a larger number of smaller parts, with increased local content.
The next phase in production, following CKD production, will be to move to full product manufacturing, concurrent with increased local parts content and a growing uptake of BAIC vehicles in South Africa.
A new marketing agency has been appointed to handle the BAIC brand in South Africa.
Initial production, once the plant is fully operational (including the paint shop), will be around 50 000 units a year, says Balepile, which will include exports to the rest of Africa.
"At later stages the plant could move up to 100 000 units a year.

"The aim is to export 60% of production, in line with the objectives of the South African Automotive Masterplan."
The target for local content is still at 60%-plus.
"BAIC is currently looking at what parts can be sourced locally," says Balepile.
He adds that the IDC is aware that the plant is behind schedule.
At the sod-turning event in 2016, it was announced that construction of the new plant was expected to be completed in the first quarter of 2018.
"The joint venture decided to first focus on getting the construction done, and to then focus on securing the necessary local content, as well as to accelerate BAIC's marketing efforts," says Balepile.
"We realised our initial construction programme was a bit too ambitious, especially taking into account the developmental imperatives we had to achieve during the construction period.
"Key among this was contracting more than 90 emerging contractors to carry out the bulk of the construction works. These contractors, in turn, employed and trained around 2 000 construction workers. As a result we have invariably fallen behind schedule and we are doing our best to catch up."
BAIC currently has 17 dealerships in South Africa, and is looking to grow this number over the coming months.