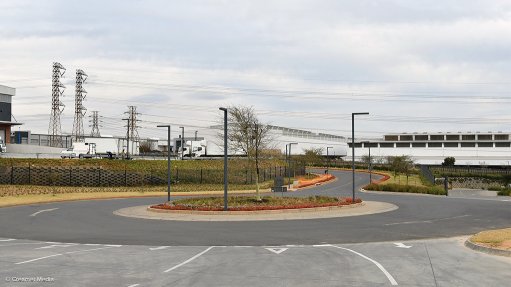 Photo by: Creamer Media
The new S&J Industrial Estate, situated on the south-eastern corridor of Johannesburg, has applied to become the first EcoDistricts-certified precinct outside of North America.
EcoDistricts promotes new models of urban development to empower just, sustainable and resilient neighbourhoods. Certification can be achieved if a district demonstrates a commitment to equity, resilience and climate protection through the formation of collaborative governance to oversee planning and implementation.
Under the EcoDistricts protocol, each of these steps are submitted to third-party verifiers to ensure transparency and accountability.
The S&J Industrial Estate, which is being developed by property developer and shareholder Abland and its partners, is comprised of three parcels of land, totalling 210 ha, which is being sold and developed into prime warehouses, logistics and distribution centres and light manufacturing facilities.
The estate is located on the rehabilitated land of the old Simmer and Jack gold mine on Gosforth road adjacent to the N3 and M2 highways – just opposite the PPC cement factory – and offers convenient access to and from the M2, N12, N17 and N3 highways.
The estate forms part of the City of Ekurhuleni's 11 strategic urban development projects, which are aimed at becoming key drivers of the city's economic performance.
The modern urban design and high-end management principles of the estate are key aspects of the development, differentiating it from older industrial areas in the vicinity.
Many of the older industrial districts in the area have become rundown and congested, with ageing infrastructure, urban decay and rising crime creating an increasingly unattractive environment for businesses to operate in.
Abland marketing and leasing director Grant Silverman, who hosted Engineering News on a tour of the S&J Industrial Estate, says Abland's strategic approach towards providing turnkey warehousing solutions not only benefits S&J clients, but also the environment – through the implementation of carbon neutral and sustainable, environment-friendly development principles.
"We have received approval for the rehabilitation of the wetland that fronts the N3 highway. The wetland currently has a low ecological importance and sensitivity score, owing to low biodiversity and species richness," adds Abland executive consultant Chantelle Mathomes.
The rehabilitation of the wetland will include the control of alien and invasive vegetation in an environmentally sustainable manner, as well as the introduction of indigenous plant species.
Moreover, a channel will be built in a more flexible and natural manner to facilitate various wetland-related functions such as erosion control, filtration and the support of various bird and insect species.
To date, about 60 000 m2 under-roof space has already been developed, with more than 60 000 m2 currently under construction. The various units being built are designed to tenant specifications and are available from about 4 000 m2 to more than 100 000 m2.
Among the clients who have started to occupy the space are automotive part distributors, third-party logistics companies and light manufacturing businesses, with logistics and distribution enterprises showing the highest degree of interest, Silverman says.
Moreover, convenience retail facilities are planned for the main precinct, with flexible corporate space also planned once critical mass is achieved, he points out.
Additionally, a conference facility is being planned at one of the Simmer & Jack winder houses, which will be retained and refurbished for heritage purposes.
The entire estate has fibre connectivity infrastructure installed and advanced, as well as integrated 24-hour intelligent security systems, including access-controlled gatehouses.
The high-tech camera monitoring systems across the precinct feature licence plate recognition capabilities, which allows for the speedy registration of staff and fleet vehicles. Advanced artificial intelligence capabilities also enable the camera system to intelligently locate, track and alert security personnel of suspicious activity. Biometric access is also available to pedestrians.
Urban design and landscaping have been incorporated to enhance the aesthetics of the estate. This includes pedestrian and cycle lanes, as well as a 10% mandatory landscaping commitment from every occupant, which will ultimately translate to 21 ha of landscaping throughout the estate.
Moreover, wider-than-usual road lanes make the estate more truck-friendly to facilitate the easy transporting of goods and minimise congestion.
Additionally, sufficient stacking space at gatehouses helps to prevent traffic jams on surrounding roads, Silverman explains.
"We also allow for solar solutions and back-up water as part of the development," he says, with most occupants opting to install these features. This adds to the S&J Industrial Estate's environment-friendly appeal.
Development of the S&J Callisto precinct is set to start soon, where the infrastructure installations will make available more than 300 000 m2 of land for sale, lease and turnkey development facilities.
Phase 2 of the S&J Amalthea precinct will also begin soon, with more than 171 200 m2 of land earmarked for development.
Mathomes says the economic impact study that was conducted prior to the development of the land showed that it could be expected to create about 60 000 direct jobs and about 10 400 indirect jobs.
Moreover, it is expected that about 27 900 will be induced in related industries in the area. In total, about 98 300 jobs are expected to be created as a consequence of the development.
SITTING ON A GOLD MINE
Part of what makes the S&J Industrial Estate so special is the property's history as the Simmer and Jack gold mine. With the remaining gold mine dumps in the area having been cleared through advanced remining techniques and the abandoned shafts capped, the development of the former mine property forms part of Ekurhuleni's drive to facilitate development of the whole historic gold mining belt, thereby reorientating the city towards a logistics-based economy.
Certain elements of the old mine infrastructure will be retained from the Simmer and Jack era. One of these is a mine shaft that will be capped and retained as a feature with a glass floor over the shaft.