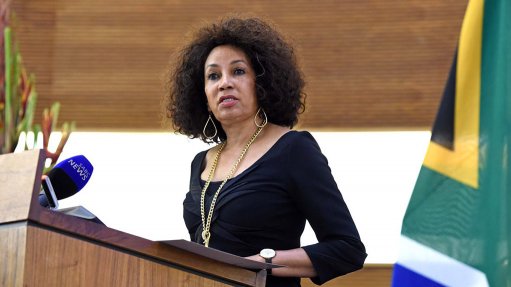 Human Settlements, Water and Sanitation Minister Lindiwe Sisulu
Human Settlements, Water and Sanitation Minister Lindiwe Sisulu, on Sunday, launched the uMshwathi Regional Bulk Water Supply Scheme, set to service more than 3 000 households in the areas of Albert Falls, Mpolweni, Nadi, Cool Air, Efaye, Kwazibusele, Ntanzi, Mtulwa and Mount Elias.
The scheme is being implemented by Umgeni Water and the network has 27 km of bulk pipeline and four reinforced concrete reservoirs.
"We have completed a number of bulk water projects in other provinces but still people do not have access to water. I implore the KwaZulu-Natal Cabinet to ensure that these gaps are closed. As we work on the bulk water supply, local government must, at the same time, work on the reticulation infrastructure," Sisulu said.
The total cost of the combined bulk water supply projects will be R500-million and is jointly funded by Sisulu's department through the Water Services Infrastructure Grant and the Department of Cooperative Governance and Traditional Affairs through the Municipal Infrastructure Grant, implemented over a three-year period.
All households will have metered connections once the projects are completed.
Meanwhile, Sisulu also called on municipalities to lead by example and pay their water bills.
"There must be a culture of payment for services received. As a responsible nation we must send a clear message that those households who are not indigent and are in a position to pay for services must pay municipalities for services rendered. Government departments must pay all the debts owed to municipalities and municipalities must pay the water boards for bulk water and services rendered," she stated.