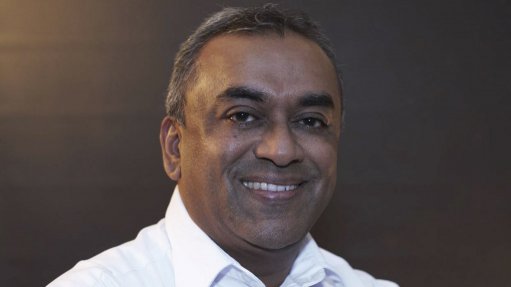 VISHAL POORAN The pandemic had a significant impact on the hospitality sector, and resulted in an increase in demand in the domestic, central-water heating and multi-dwelling markets
Power generation, while remaining South Africa's largest barrier to economic growth, provides piped natural gas supplier Egoli Gas with a significant opportunity to provide more piped natural gas for the local industry, says Egoli Gas MD Vishal Pooran.
"We are all aware of the current challenges regarding the inconsistent electricity supply from power utilities. Government has already licensed and granted approval on embedded generation of up to 10 MW without having to obtain Ministerial approval."
Egoli Gas is licensed to reticulate natural gas through an underground 1 300 km gas pipeline network in the City of Johannesburg. This includes reticulating gas to the domestic residential, multi-dwelling, central-water heating, hospitality, industrial and power generation markets.
Egoli Gas also trades natural gas and methane-rich gas to manufacturers in Gauteng and KwaZulu-Natal. The company has a trading licence, issued by the National Energy Regulator of South Africa, to supply natural gas and methane-rich gas to large industrial consumers.
Pooran highlights that the company can expand its supply of reticulated, piped natural gas to the local industrial, hospitality and embedded-power-generation sectors, particularly as these sectors incrementally recover from the effects of the Covid-19 pandemic.
"The pandemic had an impact on the hospitality sector in particular, as the sector had to shut down for a significant period owing to prolonged lockdowns. We have also seen demand increase in the domestic, central-water heating and multi-dwelling markets. Demand for gas in these sectors reached an all-time high as consumers were isolating and working from home."
However, the increase in demand in these sectors is relatively small in comparison to industrial market segments, as Pooran notes that demand in the overall power generation sector has not reduced owing to ongoing load-shedding and load reduction processes by power utilities.
He maintains that demand for piped natural gas for the residential, multi-dwelling and central-water heating segments is limited to the more established suburbs in Johannesburg, where the company built pipeline networks many years ago.
Pooran stresses the need for significant downstream demand for the company to invest in new pipeline networks, as laying down such networks is capital expenditure intensive.
He adds that, this year, Egoli Gas has made a significant capital expenditure investment in Sandton, which is identified as a growth region in the northern suburbs of Johannesburg.
"The local industry is in a holding pattern, as we are awaiting certainty on the supply of additional gas. There are, fortunately, many options open to the industry, one of which is liquefied natural gas (LNG), as well as exploration of additional gas reserves in the Pande and Temane gasfields by our current supplier, in Mozambique."
Growth Preparation
Pooran points out that Egoli Gas joined nonprofit organisation the International Gas Union (IGU) last year as part of its "journey to becoming a world-class gas operation". This has resulted in the company conducting vital benchmarking with similar gas utilities globally.
Egoli Gas has also made several investments this year to upgrade its supervisory control and data acquisition system, implemented an operational excellence management system and focussed its operational activities on best practice work management and pipeline integrity efforts.
"Egoli Gas is looking to grow the local market beyond current supply and is preparing for the introduction of LNG in the future," he concludes.