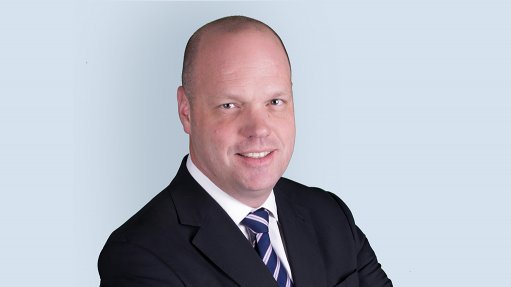 MATHIEU DU PLOOY Approved projects encourage private sector optimism
The launch of the Sustainable Infrastructure Development System (SIDS) programme, as well as the roll-out of the projects already approved within the system, has sparked renewed, albeit cautious, optimism from private-sector investors who are keen to participate in infrastructure development, says engineering consulting firm WSP in Africa MD Mathieu du Plooy.
Since the launch of the SIDS programme last year June, the first 51 projects, along with an additional 12 projects, were announced as Strategic Integrated Projects in terms of the Infrastructure Development Act.
These include projects that government has identified as "big, bold, targeted, [and] implementation-oriented". The projects are bankable, attract shared investment and have the potential to serve as success cases for the new approach and methodology established through the SIDS.
The success of such projects can drive further interest and investment in projects that are aligned to and support the South African Infrastructure Investment Plan.
"This move speaks to the State-led promise for reinvestment in the country and is a call to action for market players that want to be involved in these projects," explains Du Plooy.
Infrastructure development in South Africa has encountered many challenges in recent years, even before the Covid-19 pandemic. Fewer public projects were developed, owing to reduced expenditure by government for large-scale projects.
Government investment trends in infrastructure have influenced uncertainty in private-sector investment markets, while there is also market confusion about the impact of the proposed changes to the law regarding land expropriation without compensation and the roll-out of land expropriation without compensation.
These challenges, among others, have contributed to obstacles resulting in delays for projects that are in the planning and implementation stages of development.
The SIDS methodology aims to address these problems and aid the process through a comprehensive and focused infrastructure plan, as well as address the fragmentation of infrastructure delivery through increased collaboration with all shareholders.
"In implementation terms, part of this process has included establishing a new department under the Presidency with the added infrastructure mandate set up in terms of the Infrastructure Development Act," elaborates Du Plooy.
The SIDS methodology also focuses on how projects address spatial inclusivity and transformation.
The SIDS projects are clustered in six infrastructure sectors: transport, water and sanitation, human settlement, agriculture and agroprocessing, digital and energy.
Investment in these sectors will stimulate the positive knock-on effects of improving access to services and overall quality of life, resulting in culminative positive effects for the communities involved, industries and the country.
Despite South Africa's current economic climate, it is still possible for the country to use developed projects to drive growth in the economy. South Africa offers immense opportunity for investment and infrastructure development, says Du Plooy.
Government and shareholders must remain mindful throughout the infrastructure development process and focus on leveraging opportunities and projects that will show immediate economic contributions in the short term, he further explains.
However, the focus on short-term economic contributions should not overshoot or compromise the country's adaptability to incorporate new technologies, notes Du Plooy.
By ensuring short-term economic contributions and the long-term adaptability of technology and technological innovations, South Africa can futureproof its infrastructure networks and ensure an attainable long-term vision of sustainable and inclusive growth.
Du Plooy points out that there are numerous investment opportunities in South Africa and investors who are keen to assist in developing these opportunities. The SIDS methodology assists with this process.
"Despite changes that the country is going through – be it because of the pandemic, a financial recession or a recovery – as a nation, we have an exceptional 'can do' attitude and perseverance through challenging times. It continues to inspire resiliency and the approach to being solution oriented," Du Plooy concludes.