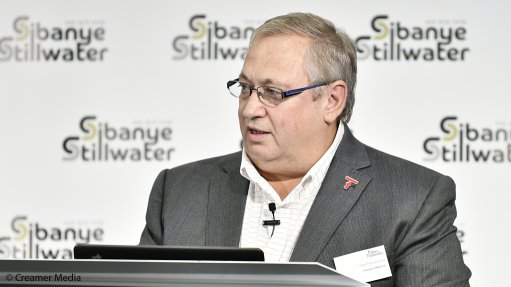 Sibanye-Stillwater CEO Neal Froneman.
Photo by: Creamer Media
JOHANNESBURG (miningweekly.com) – The free cash flow of precious metals company Sibanye-Stillwater rocketed 63-fold to within a hair's breadth of R20-billion in the six months to the end of December.
The Johannesburg- and New York-listed company, headed by CEO Neal Froneman, reported a sky-high profit rise to R29.3-billion for the six months, up from R62-million for the corresponding period of 2019.
In a release to Mining Weekly, Froneman described 2020 as a defining year for the group, marking the end of the deleveraging phase that has prevailed over the past three years.
A final dividend of R9.4-bilion was declared, giving a full-year dividend yield of 8.7%.
Despite Covid-19, the group delivered a record financial performance and made notable progress towards delivery on many strategic targets.
"This performance is testament to benefits of the strategic growth and diversification undertaken in recent years and reflects the quality, depth and resilience of the Sibanye-Stillwater leadership. We have come out of this period strongly, and the group is well positioned for the ongoing delivery of value for all stakeholders," the release stated.
Approved investment in the period was R6.8-billion on South African platinum group metal (PGM) and gold projects, securing operational sustainability and 7 000 jobs.
Despite the ongoing implementation and observance of Covid protocols to support the health and wellbeing of the workforce, production from the three operating segments for 2020 was consistent with the prior year, it stated.
The second-quarter build-up to normalised production levels at the South African operations exceeded forecasts despite the adoption of a phased return to work to protect the health and safety of employees.
Both the South African gold and PGM operations reached normalised production rates in November 2020, positioning the group for an improved operational performance in 2021.
The South African PGM operations produced 1 576 507 four element (4E) ounces in 2020, including attributable ounces from Mimosa in Zimbabwe and exceeding the upper limit of revised annual guidance of between 1 350 000 4E oz and 1 450 000 4E oz by 9%, with PGMs production of 918 679 4E oz for the second half of 2020, 40% higher than for the first half.
Mined production from the PGM operations in the US of 603 067 2E oz in 2020 was marginally higher year-on-year, but below revised guidance of between 620 000 2E oz and 650 000 2E oz, primarily owing to the impact of a spike in Covid infections at the US PGM operations in the fourth-quarter of last year, associated with a severe wave of Covid infections in Montana.
Despite the pandemic's disruptions, second-half production of 305 327 2E oz was 3% higher than first-half production, with most operating trends improving towards the end of the year.
Production from the South African gold operations, excluding DRDGold, was 3% above revised guidance at 25 190 kg or 809 877 oz.
This operational performance underpinned the record financial results by obtaining full exposure to higher average precious metal prices.
The average 4E PGMs basket price increased by 83% to R36 651/4E oz or $2 227/4E oz for 2020 with the average 2E PGMs basket price increasing by 36% to $1 906/2E oz or R31 373/2E oz, with the average rand gold price increasing by 43% to R924 764/kg or $1 747/oz. The average South African exchange rate depreciated by 14% to R16.46 to the dollar for the year.
Group revenue increased by 75% year-on-year to R127.4-billion and group adjusted 2020 earnings before interest, taxes, depreciation and amortisation (Ebitda) increased by 230% year-on-year to more than R49-billion, or $3-billion.
This resulted in profit attributable to owners of Sibanye-Stillwater increasing 472-fold from R62-million for 2019 to R29.3-billion.
Basic earnings per share increased by 53 600 % to 1 074 c and headline earnings per share by 2 770 % to R1 068 c year-on year.
Sibanye-Stillwater's economic contribution to the regions in which it operates grew commensurately to profitability, with royalties increasing by 310 % to R1.765-billion. Mining tax increased to R5.4-billion.
Borrowings were reduced to R18.4-billion and cash and cash equivalents rose to R20.2-billion. On a trailing 12-month basis, Ebitda increased by 230 % to R49.4-billion resulting in a net cash to Ebitda ratio of 0.06 times compared to net debt: Ebitda of 1.25 times at the end of 2019.