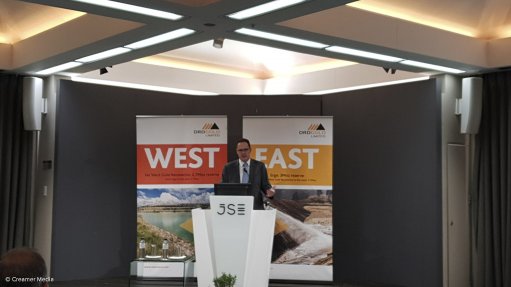 DRDGold CEO Niël Pretorius
Photo by: Creamer Media's Simone Liedtke
JSE-listed gold miner Sibanye-Stillwater has exercised its option to subscribe for additional ordinary shares in surface gold miner DRDGold, increasing its shareholding to 50.1%, from 38.05% previously.
Sibanye and DRDGold initially entered into an option agreement in November 2017.
The subscription price for each option share is R6.46 apiece, payable in cash. This represents a 22.69% discount to the closing share price of R8.35 apiece on the day before the option was exercised.
The total consideration for about 168-million additional shares in DRDGold amounted to R1.08-billion.
The option shares will list on the JSE on January 22.
DRDGold will retain its listings on the JSE and NYSE.
Sibanye CEO Neal Froneman commented in a statement on Friday that by securing the majority holding in DRDGold, Sibanye continues to create value for all stakeholders.
"We are thrilled that the value of our initial shareholding has already increased by 147% in 17 months."
DRDGold has a proven record and has successfully implemented its Far West Rand Recoveries project, reaching 500 000 t a month capacity during Phase 1, Sibanye pointed out.
The company is completing detailed planning around the implementation of Phase 2.
DRDGold CEO Niël Pretorius noted that Sibanye had been the company's largest shareholder for 17 months, adding that its support had been invaluable in the success of the Far West project so far.
"This latest transaction marks the single largest investment that has ever been made by an individual shareholder in the capital of our company and it bears testimony to a shared vision for the future of our enterprise.
"It will come in very handy in accelerating the further unlocking of value in DRDGold's business and will go a long way to fund the early-stage development of Far West Gold Recoveries Phase 2."