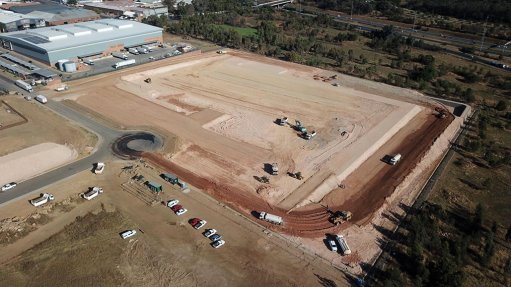 Aerial view of the site
Drive and control technologies specialist SEW-Eurodrive on October 1 started construction on its new R200-million head office and factory in Aeroton, Johannesburg.
The 25 000 m2 building is being built on property acquired by the company two years ago. The necessary earthworks were completed in late September.
Construction is scheduled for completion by October 2021, and the company plans to move to its new premises in January 2022.
Over a three- to five-year period, the factory will be fitted with Industry 4.0 compliant technologies, including automated assembly machines and guided vehicles, which the company expects will cost at least another R200-million.
Speaking at the ground-breaking ceremony, SEW-Eurodrive South Africa MD Raymond Obermeyer said the new factory should be as automated as possible, to allow the company to remain globally competitive.
He noted that the German parent company had shown considerable faith in the South African operations through this investment, despite the difficult economic conditions in the country, which have been exacerbated by the pandemic and lockdown.
The new factory is expected to accommodate the company's growth, with its old head office in Johannesburg now too small to support this. The new facility will serve as both a factory and the new South African headquarters.
The old head office and factory will become the company's large gearbox repair centre.
The new factory will accommodate a number of the company's assembly plants around the country, to develop better efficiencies and contain costs.
SEW-Eurodrive's existing plants in Nelspruit, Durban, Port Elizabeth and Cape Town will continue to operate with a focus on servicing the company's national footprint of customers.
Obermeyer said the group sees South Africa as its springboard into the rest of Africa, where it is aiming to bolster its reach over the coming decades and this new facility would support that.
The facility is expected to enable the company to more efficiently and effectively service customers both in Gauteng and in the rest of Africa.
"We expect African markets to account for 50% of our turnover within the next three to four years, given that growth in many countries around the continent is much faster than it is locally," Obermeyer noted.
The company expects this growth to be bolstered by the establishment of the African Continental Free Trade Area agreement, as it should streamline business opportunities and operations for it on the continent.
SEW-Eurodrive has operated in South Africa since 1986.