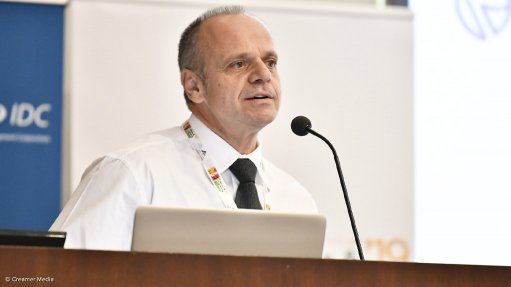 Seifsa CEO Lucio Trentini
Photo by: Creamer Media's Donna Slater
Steel and Engineering Industries Federation of Southern Africa (Seifsa) CEO Lucio Trentini expects this year to be as challenging as the last two years, particularly as the steel industry is in a crisis, but it is focused on formulating deliverables in terms of the Steel Master Plan.
He attributes the steel industry's struggles to a lack of clarity of purpose, lack of demand and lack of policy support.
There are also difficulties in the collective bargaining space, says Trentini, highlighting the need for a focused strategy and a single, powerful voice representing the views and concerns of all associations, which, in turn, talk on behalf of their respective memberships.
"Seifsa is best placed to facilitate, navigate, negotiate and lobby issues on behalf of the industry. Lost ground must be recovered and stakeholder trust in Seifsa must be rebuilt.
"Seifsa has the potential to be the platform for engagement between all stakeholders. Now is the time for all stakeholders to work together," he states.
Trentini notes that South Africa needs to reposition for growth in key areas such as agriculture, mining, agroprocessing, manufacturing, urban development and rural infrastructure, storage, desalinisation, logistics, transport and energy.
"We have to create an enabling environment that is conducive to job creation," he says, adding that Seifsa will, therefore, be focusing its efforts this year on being the voice of industry and advancing collective bargaining.
Further, he unpacks the ten action points the federation will pursue, including steel input products and pricing; skills development and human capital; the bankability and transformation of the industry; industry revival and inclusiveness; electricity; empowerment; imports, exports and international trade; engagement with government's economic cluster; engagement with Brazil, Russia, India and China; and, importantly, the Steel Master Plan.
"Let us work together to make 2022 a year we begin to turn things around."