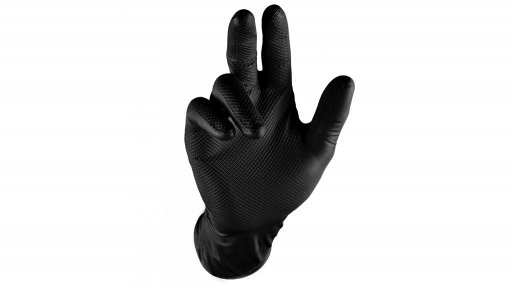 HANDY RANGE Bearings International has seen a huge increase in demand for its range of Grippaz hand gloves and has increased its stockholding
Demand for the agriculture-specific products offered by Southern Africa bearings and power transmission products distributor Bearings International (BI) is slowly picking up now that lockdown restriction have eased, says agriculture business development leader Gerhard Pienaar.
In addition, there have been numerous opportunities regarding the supply of sanitisers, disinfectants and gloves during the lockdown that have shown good growth, he tells Engineering News.
Subsequently, BI has added a "particularly good" sanitiser and disinfectant to its current range of hand cleaners, which have been extremely well accepted by various industries, including in the agriculture sector, says Pienaar.
"We have also seen a huge increase in demand for our range of Grippaz hand gloves and have increased our stockholding. An accurate handheld thermometer has also been added to our product range."
Pienaar says the demand for sanitisers, hand cleaners, disinfectants and gloves has increased exponentially, and he does not foresee a decline in demand any time soon.
"While the SARS-CoV-2, the virus that causes Covid-19, is in South Africa, people and companies will use all these products to protect themselves and their staff from contracting and spreading Covid-19.
"From farm workers to market stalls, from fresh-produce delivery to packaging, the virus doesn't discriminate and spreads ferociously, so doing everything we can to protect ourselves and others is driving demand for these products."
BI noted a sharp decline in April for its agriculture-specific products, but has since started to see a steady increase in demand.
Levels 5 and 4 of the lockdown were definitely the major contributors, with the company allowed to supply products to only essential services providers that had an emergency breakdown during the hard lockdown.
Meanwhile, the Nampo Harvest Day show, cancelledin May this year, owing to government's restrictions on large gatherings, is normally an exceptional marketing opportunity for BI, notes Pienaar.
Nampo was postponed to August at the start of the pandemic, but the live event has been officially cancelled. Instead, a virtual Nampo will take place from September 9 to 12, in which BI intends to take part.
"Grain SA will transform the biggest agricultural trade show into a convenient and safe interactive online virtual experience," says a media statement released at the end of June.
BI is focused on the promotion of its agri hubs, bearing hub units designed specifically for planters. Subsequently, the company planned to showcase five different agri hub units at this year's Nampo, along with fastening kits.
The agri hub units fall under BI's Agri-Smart banner of value-added products and services for the agriculture sector.