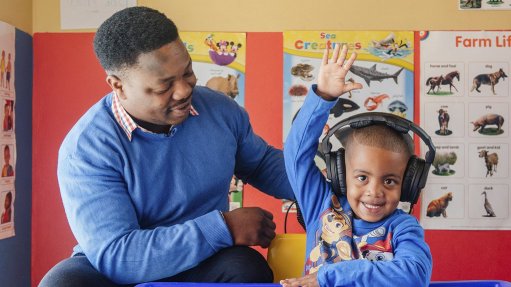 According to the Centre for Deaf Studies at the University of the Witwatersrand, deafness is one of the greatest disabilities in South Africa affecting more than 4-million people. It is estimated that of every 1 000 children born in the public health care sector, four to six children have hearing impairments.
A hearing screening app has now been developed to help find a solution to this treatable condition.
The app recently received an award in the category of Sustainable Community Projects by the AfriSam Sustainable Architecture and Innovation Awards, in acknowledgement of the development of a product that is sustainable, specialised and affordable.
The hearScreen app developed by hearX aims to allow for a convenient and short screening test to be administered by non-specialist personnel such as community members, educators and family members. The screening is painless and quick, is said to deliver accurate results and can take place in facilities such as schools and community centres.
According to the company, there are currently three active hearing screening projects in South Africa, reaching 18 437 people. The sites are based in Tembisa in Johannesburg, and in Khayelitsha and Mitchell's Plain, both in Cape Town. The projects are community-based and are focused on expanding services, increasing efficiency and improving outcomes.
The app is a social initiative that aims to give all South Africans access to an affordable medical service.
This article was first published by Creamer Media's Product Portal, to advertise on the Product Portal please email advertising@creamermedia.co.za and to subscribe to receive the Product Portal's weekly email newsletter please email subscriptions@creamermedia.co.za.