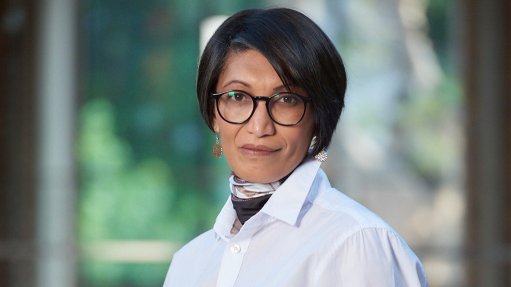 South African Wind Energy Association chair Mercia Grimbeek
The chairperson of the South African Wind Energy Association (SAWEA) says the industry is well placed to take advantage of both the 100 MW reform and recent moves to release 36 000 ha of Eskom land in the grid-rich Mpumalanga province to accelerate renewables investments and facilitate a just energy transition from coal.
Mercia Grimbeek tells Engineering News that resource measurement campaigns have overturned earlier assessments suggestive of deficient wind resources in the region to show that "a sufficient resource exists in the province for the deployment of wind energy facilities".
These assessments show that wind resources in Mpumalanga can reach between 6 m/s and 7 m/s, which is more than adequate for wind-farm development, using turbines that operate at those speeds.
Grimbeek reports that developers are already actively looking to facilitate projects for mining houses and energy intensive users that could "unlock gigawatts of wind deployment".
Possible projects include sites in Mpumalanga, where a renewable-energy development zone has already been demarcated in eMalahleni.
Sasol, which has a large presence in the province, has also already committed to adding up to 1 200 MW of renewable energy by 2030.
"This is game-changing for a province that has historically been the centre of fossil-fuel electricity generation," Grimbeek avers.
She is also confident that wind will secure a portion of the 3 900 MW of renewables projects being developed by Minerals Council South Africa members, despite most of the announcements to date pointing to the use of solar photovoltaics.
The outlook for the domestic wind sector, which has hitherto been driven by the large government procurement programme, is being buoyed by the fact that the regulatory environment has become less onerous for the conclusion of corporate power purchase agreements (PPAs).
"Investors and lenders require as much policy certainty as possible and positive market reforms, such as the generation of electricity up to 100 MW without the requirement of a generation licence, are the positive signals that investors need.
"With a supportive framework, specifically for wheeling and grid connectivity, wind energy can drive significant change in 2022," Grimbeek argues, noting that shovel-ready wind projects can be built within 12 to 18 months.
Nevertheless, the government-led Renewable Energy Independent Power Producer Procurement Programme (REIPPPP) remains a key focus area for the industry, which is set to invest in projects worth R50-billion in 2022 once the preferred bids from Bid Window 5 reach financial close.
It is anticipated that at least Bid Window 6 for the procurement of another 1 600 MW of wind will be initiated this year, and possibly Bid Window 7, and SAWEA is confident that the project pipeline is sufficiently developed to ensure that the 100 MW reform does not compete with the REIPPPPP.
"Thirty-nine onshore wind projects were bid during the Bid Window 5 procurement round, of which only 12 were selected as preferred bidders.
"So, this provides an indication that there are at least 27 shovel-ready projects for REIPPPP."
However, the 100 MW reform should also promote a more consistent procurement profile than has been the case under REIPPPP, which only resumed in 2021 after a six-year disruption, precipitated by Eskom's then refusal to sign new PPAs.
The utility's new leadership is far more supportive of independent power producers and has also called for accelerated investment to close a supply gap that is currently estimated to be between 4 000 MW and 6 000 MW.
It is also keen to ensure that the first long-term lease of its Mpumalanga land is concluded by October this year as part of a renewed effort to ensure that the 100 MW reform gains traction, notwithstanding severe grid capacity constraints in regions with superior renewables resources, such as the Northern, Eastern and Western Cape provinces.
Consistent procurement is also seen by SAWEA and others as key to encouraging the development of domestic manufacturing and supply chains for the wind and solar industries.
"We have witnessed in the past the devastation of stop-start procurement and hopefully now with a continuous procurement roll-out this will be avoided," Grimbeek states.
The wind industry is looking to continue localising tower manufacturing for wind energy projects, which constitute 20% of the value of a project, excluding balance of plant.
Local supply is currently limited to only one steel and one cement tower manufacturer apiece; a situation that Grimbeek describes as "staggering" in light of anticipated yearly demand of 1 600 MW from the REIPPPP alone.
"There is a possibility to attract new investors looking to enter this market for additional steel and concrete tower manufacturing facilities, however, this might not happen soon enough for the new bidding rounds."
Additional investments in manufacturing facilities will be needed to unlock nacelle assembly and blade manufacturing, which could add considerably to local-content levels.
"With supporting policy and smooth procurement rounds . . . the renewable power sector certainly has a key role to play in re-building the country as a significant catalyst of economic growth, and investors have a big role to play in making that a reality," Grimbeek concludes.