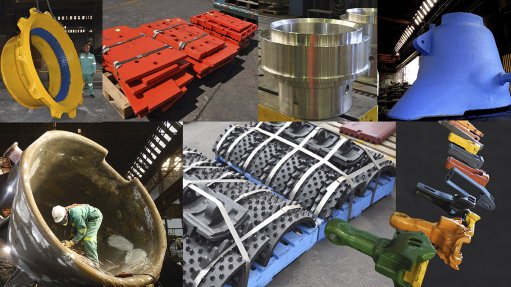 Cast Products SA has been under the control of the turnaround team of Engaged Business Turnaround and Chrisyd Advisory Services for five months, after the firms were appointed to manage its business rescue in late January 2022.
The business rescue brought together a team of vastly experienced steel and foundry industry professionals to restructure and reposition the business for future growth. The team can proudly state that the company has been stabilised through an intensive operationally-focused turnaround, and is achieving the monthly financial targets envisaged by the business rescue plan which was approved by 100% of creditors on 26 April 2022.
Cast Products SA was originally a division of Scaw Metals which was sold by Anglo American in 2012 to a consortium led by the Industrial Development Corporation (IDC). In 2018, Scaw Metals was unbundled into three entities each with their own strategic equity partners. These entities were the rolled products and wire business which were retained in the Scaw entity, the grinding media business which became GMSA, and the foundry division which became Cast Products SA. At the time Cast Products SA teamed up with US-based Amsted Rail as its strategic equity partner, under whose licence it still produces train wheels for Transnet.
Following the 2018 unbundling, the management of Cast Products was tasked with turning the business around. The business however continued to show losses in the region of R300m - R400m per annum for the next four years; losses which had to be funded by a continuous stream of shareholder money from the IDC.
The business rescue plan adopted in April requires the IDC to inject another R160m during the remainder of the financial year ending in March 2023, after which the plan shows that the company will turn profitable and generate positive cash flow monthly.
The business of Cast Products SA has substantial capacity through which it can service large players in the mining, engineering, rail transport, construction and power generation industries. Its ability to produce castings from five kilograms up to fifty tons positions it uniquely as an end-to-end casting solution.
The company still has some of the best equipment and technologies in Southern Africa for generating high volumes of quality products and castings.
The turnaround team is restoring the foundries to their former glory. Cast Products is producing more and more quality products every month for its now expanding client base, supported by the improved cashflows and the increased orders being received as customers recognise its new financial footing.
The products on offer by Cast Products SA include the following:
| | | | |
| --- | --- | --- | --- |
| Mining | Engineering | Rail Transport | Power Generation |
| Manganese and alloy mill liners | Spiders | Bogie frames for loco, coach and wagons | Pulverizing rings and balls |
| Screen, lifter bars and other related mill products | Yokes | Wheels 34" and 36" | Table segments and rollers |
| Slag pots and ladles, Track pads, Wear caps, Breaker bars, Cheek plates, Segments, Torch rings, Concaves, Blow bars, Various types of jaws | Shredder hammers | Striker assemblies, Drawbars, Side frames, Bolsters, Bogie centre tops, Follower blocks, Knuckles | Spiders and other related products |
| Cylpebs and eclipsoids | Made-to-order engineering products | Wheels of various size and specification | Made-to-order power generation products |
| Mantle and bowl liner wear parts for crushing machinery | | Couplers, yokes and other products | |
| Made-to-order mining products | | Made-to-order rail products | |
The company produces for both the local and export markets. As a result of present demand from Eskom and Transnet being fairly low, the turnaround team has prioritised the development and expansion of export markets for its products. The company counts General Electric Transportation in the United States amongst its clients for whom it is presently accelerating the production and export of locomotive frames. This is a significant vote of confidence in Cast Products SA. The company's local demand is being driven primarily by the mining sector, buoyant as a result of the commodities boom and its ability to deliver increasingly large orders.
The final phase of the business rescue, which is projected to commence in March 2023, will involve concluding a possible deal with a strategic equity partner to acquire a stake in Cast Products SA. The strategic equity partner will invest in taking the company forward and unlocking its full potential for the benefit of its stakeholders and the industrial base of South Africa as a whole.
Casting is a superb value-creating industry, converting raw materials like scrap steel into a versatile range of products used in numerous industries. With Cast Products SA presently employing approximately 830 people, the turnaround team is focused on saving jobs, retaining skills and providing the business with a sustainable structure to drive future growth. The team is leading the company to the point where it can once again assume its rightful place amongst the best value and employment generating assets in Southern Africa.
Visit Cast Products South Africa's website - www.castproducts.co.za