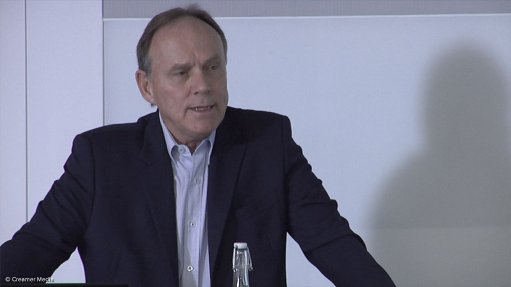 Petrochemicals giant Sasol is targeting a 10% reduction in its greenhouse gas (GHG) emissions by 2030, bringing the current 56-million tonnes a year of emissions down to 50-million tonnes.
This forms part of Sasol's commitment to mitigate climate change, especially considering that the group is the second-largest GHG emitter in the country.
The company last month published its inaugural climate change report, as part of a broader sustainability journey. Sasol also appointed an experienced team to accelerate its climate change response under the leadership of chief sustainability and risk officer Hermann Wenhold.
The report is Sasol's first report aligning with the recommendations of the Task Force on Climate-related Financial Disclosures.
Additionally, the group is working on an emission reductions roadmap, which will be published by November 2020.
The roadmap will refine Sasol's long-term target and include details involving its implementation, such as budget aspects and executive remuneration targets. These executive targets will be linked to climate change-related objectives and will be implemented from 2021.
Some solutions will include using alternative feedstocks, such as gas, as well as looking at capital allocation and maintenance towards acquiring more efficient equipment.
"For Sasol, sustainability means providing chemicals and energy in a responsible way, respecting people and the environment, while contributing to the socioeconomic development of the countries in which the company operates," says Sasol Southern Africa operations VP Bernard Klingenberg.
The company's sustainability focus areas include resilience in a lower-carbon future, safe and enduring operations, minimising environmental footprint and growing shared value.
"We understand the global sustainability needs and acknowledge our role in the socioeconomic development of the countries in which we operate. This requires long-term resilience and transformation of our business," notes Klingenberg.
Sasol climate change VP Shamini Harrington points out that climate change is a risk to the long-term resilience of the company's South African operations.
The company has accepted that a transition is necessary to a sustainable business model, which includes putting a framework in place to deal with its coal-based operations.
Harrington explains that Sasol's South African operations pose a distinct challenge, because it requires multiple levers. These include feedstock changes, renewable energy and process and energy efficiency.
Eighty-five per cent of Sasol's emissions profile is in South Africa, particularly in the chemicals complex in Secunda. The coal-to-liquids facility is an energy-intensive, multi-step process that converts coal to liquid fuels and chemicals.
This facility emits the equivalent of four power stations.
However, to put this into context, the facility makes up 10% of South Africa's emissions footprint, and, in turn, South Africa contributes 1.3% to carbon emissions worldwide.
Sasol's operations outside of South Africa, notably in China, Slovakia, Italy, Germany and in North America, have a lower carbon footprint.
Klingenberg highlights that Sasol's approach to climate change hinges on three pillars – reducing emissions through efficiency and cleaner energy sources, transforming its coal-based operations, and shifting its portfolio towards less carbon-intensive businesses.
Harrington elaborates that, based on these pillars, Sasol has already improved the energy efficiency of its South African operations by 21.7%, and its global operations by 19.5%, since 2005.
The company is progressing large-scale renewable energy deployment, with 20 MW of capacity already under construction.
In terms of the coal-based operations, Sasol will explore emerging technologies, such as hydrogen and the beneficiation of carbon dioxide.
Sasol is interacting with research stakeholders on hydrogen development and product innovation.
"In shifting Sasol's portfolio towards less carbon-intensive businesses, the company is actively reviewing equity in assets that are not aligned with this strategy and incorporating sustainability dimensions in future capital investments. There will be no more investment in greenfield coal-to-liquids, gas-to-liquids or new refining capacity," says Harrington.
However, she adds that carbon offsets alone will not provide a long-term solution, but can play an important role. The company has also initiated projects to reduce water losses and to reduce air pollution in South Africa.
Sasol is a founding signatory to the United Nations Global Compact and is involved in national policy development initiatives, as well as in the United Nations Framework Convention on Climate Change's Conference of the Parties, which will this year take place in December, in Spain.
Sasol strategy and continuous improvement VP Marius Brand notes that Sasol's chemicals complex in Secunda currently uses 600 MW of electricity supplied by State-owned power utility Eskom. A first step in the company's sustainability strategy will be to work with the power utility to supply cleaner electricity to Secunda.
He adds that the company will acquire more energy-efficient equipment, in the form of capital and add-on equipment.
The company is also increasingly using gas at Secunda complex instead of coal, because synthetic fuels require a certain amount of coal to gasify. "Liquefied natural gas has become easier to purchase and we will explore it much further."
The company's climate change mitigation initiatives will also help to reduce its carbon tax liability, which will be between R800-million and R1-billion in 2020.
Sasol has yet to unpack the impact on jobs once its coal operations are scaled down; however, the company says it will create other job opportunities that communities, specifically, can continue to benefit from.
"Sasol is positioning to still be part of the South African energy and chemicals landscape in a lower-carbon future by producing products in a more sustainable manner.
"The GHG emissions reduction roadmap is a first step in the company's long-term ambition and the 10% minimum medium-term target is only an initial goal," concludes Harrington.
COLLABORATION ISSUES
Nonprofit shareholder activist organisation Just Share reports that six leading South African institutional investors recently joined forces as co-filers of a climate risk shareholder resolution.
The resolution sought to compel Sasol to report on how its GHG emissions reduction strategy aligns with the goals of the Paris Climate Agreement. The group was supported by Just Share in the early stages of this process.
The co-filers – Old Mutual Investment Group, Sanlam Investment Managers, ABAX, Coronation, AEON Investment Management, and Mergence Investment Managers - submitted their resolution to Sasol's board for voting on at the company's annual general meeting on November 27, as they consider these matters a material risk to Sasol. Regrettably, the tabling of their resolution was rejected by the Sasol board, says Just Share.
"This is the second time that Sasol's board has refused to table a climate risk resolution. The first was proposed in 2018 by the RAITH Foundation and shareholder activist Theo Botha, also with support from Just Share.
"At the time, Sasol's refusal was based on a legal opinion it had commissioned but refused to share. It also claimed that it would be addressing all the matters raised in the 2018 resolution in its 2019 Climate Change Report. The 2019 resolution was similarly rejected on the basis that the matters raised in it 'have been addressed' in the 2019 Climate Change Report. However, a review of the report quickly reveals that this is not the case," the organisation states.
The 2018 resolution was a so-called "2 degree scenario" resolution, modelled on similar resolutions tabled at fossil fuel companies around the world. It asked Sasol to assess the effects on the company of a scenario in which global average temperature rises are kept to below 2 °C above preindustrial levels (as in the Paris Agreement); and to detail how it is building resilience for a 'two-degree world'.
The 2019 resolution similarly requested detailed reporting on how Sasol's GHG emissions reduction strategy aligns with the Paris goals.
Although Sasol's climate change report maps two future scenarios, neither is in line with the Paris goals. Sasol's report also does not make clear whether the types of disclosures that will be made in its November 2020 roadmap will be aligned to the Paris goals, or how they will be linked to short- and long-term executive remuneration – information specifically called for in the investor group's 2019 resolution.
Sasol's continued resistance to shareholder's attempts to hold it accountable through the tabling of shareholder resolutions is regrettable, especially from a board looking to restore trust. The institutional shareholders have, therefore, indicated that they are planning further engagements with Sasol's board on the company's emission reduction strategy in the coming months.
"Just Share commends the co-filers for taking this unprecedented step to collaborate, and for doing so transparently. Their public acknowledgment of their efforts, and of their plans for continued engagement to drive change, represent a refreshing change from the traditional approach of only engaging 'behind closed doors'.
"This collaboration also marks the arrival of a new era of active ownership and responsible investment, and it is very encouraging to see the South African investor community demonstrate this kind of leadership," says Just Share director Tracey Davies.