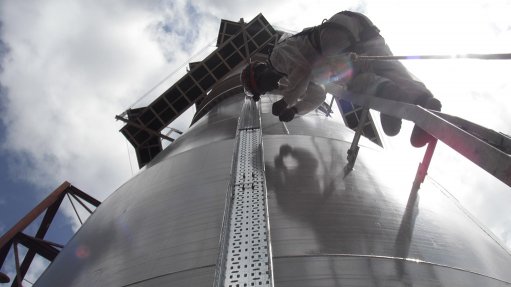 EASY ACCESS Barriers to entry in the rope access industry are relatively low, which, ironically, is a major industry challenge
South Africa's rope access industry is growing, owing to the high demand for jobs that require cost-effective means of doing work at height, says rope access specialists Skyriders Access Specialists marketing manager Mike Zinn.
"The rope access industry can be divided into two main sectors in industrial rope access, which Skyriders offers. The first is the service of the oil and gas industry, heavy inland industries and the construction sector, and the second is the commercial rope access sector, which includes window washing, advertising, general maintenance and painting," he explains.
Barriers to entry in the rope access industry are relatively low, which, ironically, is a major industry challenge, Zinn points out.
"Anyone with a few thousand rand and a Level 1 rope access qualification can start a company. But they fall short on the required additional skills, site experience and supporting structures to successfully deliver and meet industrial clients' needs. Rope access specialists should be accredited and recognised by The Institute for Work At Height."
The institute governs all height-related industries, including scaffolding, mobile elevated work platforms, cherry pickers, rope access and suspended platforms, he explains.
"The institute is becoming quite strict and standards and governance are improving rapidly. Skyriders has always tried to set the standard by acquiring the ISO 9001:2008 and the OHSAS 18001:2007 accreditations," Zinn states.
Refurbishment for Course Facilitation
Skyriders is in the process of refurbishing its premises in Midrand to offer a basic rigging course to internal and external rope access technicians to complement the other courses on offer (fall arrest, rope access Level 2 to 3). We have used instructors from a Cape Town-based rigging training company called M&M.
Zinn states that M&M is well known in the industry for conducting thorough and professional rigging training.
"Skyriders has an ongoing contract at State-owned power utility Eskom's Medupi and Kusile coal-fired power stations and a lot of the work we do involves assisting nonrope access qualified riggers from other companies in positioning their rigging equipment so that they can rig and move ducting, piping and steelwork into place," he explains.
He points out that since July, Skyriders has offered and completed two courses in conjunction with M&M and Height Wise, which is a solely owned subsidiary of Skyriders.
"The five-day course includes theory, safety, maintenance, inspection and practical training. Once the course has been completed, staff members receive their rigging qualification.
"The course is intense and only around 80% of the people who have taken it so far have passed. They have the opportunity to be re-evaluated twice," Zinn explains.
Meanwhile, Skyriders completed the construction of a new smokestack, at Syama gold mine, in Mali, last month.
The company was originally contracted by Australian mining house Resolute Mining in 2009 to carry out inspections and maintenance-related repairs on another smokestack.
"Our primary function was to inspect the stack and to repair any defects. If any complex repairs needed to be undertaken, we installed the necessary access system to ensure that the relevant specialists could gain access," says Skyriders project leader and Level 3 rope access technician Jansen Madike.
"Skyriders deployed a seven-man team to assist in building the new smokestack from scratch. We bolted the stack together and, as the stack progressed vertically, we added ladders and platforms," he says.
Zinn adds that the company also completed the installation and general maintenance for copper miner Palaborwa Mining Company (PMC), in Phalaborwa, Limpopo, this month.
"We accessed the top of a smokestack at PMC. We removed and replaced the upper section of a ladder on the smokestack that had been badly corroded," he states, adding that Skyriders also performed maintenance on aircraft warning lights on the various smokestacks.
Zinn states that the scope of work took five days to complete.
Skyriders is also busy with inspection and general welding maintenance of the ducting at South African cement producer AfriSam's facility.
"AfriSam has a lot of ducting that moves product, air and dust that it is susceptible to wear and tear. We sent a four-man team into the ducts to do the necessary welding and repair. The job will take about five days to complete," he notes.