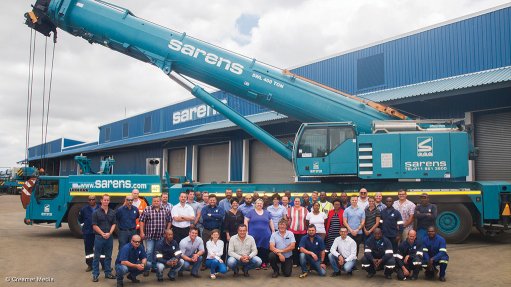 It is the mission of heavy-lifting and engineered transport specialist Sarens to be the reference in crane rental services, heavy lifting and engineered transport.
Understanding the need for change and transformation in the South African market, as well as the need to incorporate previously disadvantaged companies into the mainstream economy, Sarens South Africa this year introduced Sarens siba as key to its future.
Sarens siba is a new company formed to transform the country's crane hire business.
"Sarens siba brings together a wealth of experience and knowledge to provide existing and future clients with the best options in the market for plant and crane hire, technical solutions, abnormal transport and heavy lifting. Simultaneously, Sarens siba delivers to its clients a Level 2 broad-based black economic empowerment (BBBEE) status. Sarens and siba have been successfully active in similar industries for years," says Sarens siba MD Marius Cilliers.
Sarens siba's current fleet covers hydraulic cranes from 20 t to 650 t and crawler cranes from a 100 t to 1 250 t lattice boom. Additionally, Sarens siba has the ability to increase its African fleet in number or size according to its clients' needs.
Cilliers highlights that 2018 will be decisive for South Africa, which is entering new business and experiencing new growth. "With our increased Level 2 BBBEE, we aim to penetrate new markets and clients."
Sarens is also operating successfully internationally, with branches in Namibia, Botswana, Mozambique and Zambia.
Over the past few years, safety, health, environment and quality have been the main drivers in Sarens's business, with zeal for excellence and dedication to safety two of the five unwavering values of the company.