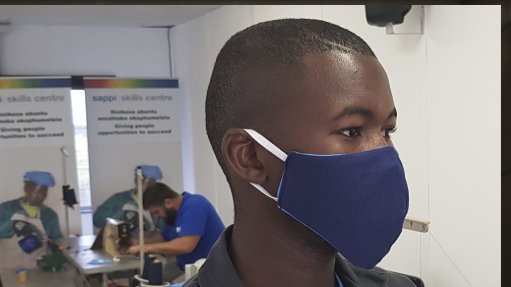 Pulp and paper producer Sappi Southern Africa has made available several donations of scarce items such as hand sanitiser, face masks, nutritional porridge and paper products, to reduce pressure on the national government's resources, as well as to support the most vulnerable during the Covid-19 pandemic.
Following countrywide shortages of hand sanitiser, Sappi's Pretoria-based science and research centre was able to refocus its efforts to produce the company's first prototype hand sanitiser.
This led to a partnership with a Johannesburg-based company to produce 16 000 ℓ of Sappi hand sanitiser worth about R1-million.
Proving successful, Sappi is now able to distribute the sanitiser to more than 80 community clinics and healthcare centres in the rural and peri-urban areas of KwaZulu-Natal and Mpumalanga.
Sappi is also distributing sanitiser to its own employees and their families.
While there remains a shortage on the required personal protective equipment (PPE) for health practitioners in the country, Sappi was able to procure 15 000 surgical masks for community clinics and health care centres in KwaZulu-Natal and Mpumalanga, thereby enabling community health practitioners to perform their duties safely.
In addition, Sappi has procured 19 000 cloth masks, which were needed for its own employees, as well as for its contractors, who continue to deliver essential services during this time of national lockdown and who require essential PPE.
Again, seeing the need to respond rapidly to a situation, Sappi 's Saiccor mill, in Umkomaas, was able to rent spare sewing machines from a local business, install them at its skills centre and deploy six apprentices to make cloth masks.
Following a short guideline from the Internet, they are now producing 28 masks an hour, working towards the target of making a further 3 000 of these cloth masks.
Post lockdown, Sappi will look into providing training opportunities to local small, medium-sized and microenterprises in the area for the continued production of cloth masks.
The masks are distributed along with instructions on how they should be effectively used, with the clear message that they should be used in addition to observing the rules of physical distancing and personal hygiene regimes.
Sappi's procurement department is also sourcing gloves and hand soap which will be added to the list of items to be donated.
In addition, accounting for the pandemic placing strain on the livelihoods of communities that are already severely under pressure, Sappi has also entered into a partnership with the Southern Lodestar Foundation and Spar Group for the distribution of much-needed nutritional porridge.
Sappi is using its knowledge and access to rural community networks to distribute 60 t of A+ instant porridge to vulnerable communities in KwaZulu-Natal and Mpumalanga, using the networks provided by community health workers.
The Southern Lodestar Foundation is an organisation which provides innovative nutrition solutions for children and has developed the instant porridge which is being used in school breakfast programmes and is known for its nutritional value consisting of protein and other micronutrients.
To "Live a Life of Note" is the Sappi Typek brand message and in a continuation of its drive to encourage people to remain positive and to bring about positive change, Typek challenged South Africans, through its social media platform, to share their messages of hope and inspiration with others on how they were "living a life of note". As part of this challenge, participants can win a R1 000 a day, with Sappi pledging an additional R1 000 a day to the Solidarity Fund.
Typek will also contribute R35 000 to the fund.
Sappi Southern Africa CEO Alex Thiel says Sappi has also realised that this situation could, in the long run, have lingering effects on the resources of many institutions and organisations.
"As such, we have pledged a donation of Sappi manufactured toilet paper and Typek office paper to the value of R2-million to the Department of Trade, Industry and Competition for their future distribution to deserving recipients."
He adds that, in addition to these donations of first-need items and other initiatives, Sappi has also used its considerable networks within local communities to distribute useful educational material regarding the Covid-19 pandemic.
Sappi is also actively participating in several coordinated efforts that are being driven by government and private sector bodies. In this regard, Sappi has contributed to relief efforts in the two provinces through the departments of Economic Development and Cooperative Governance and Traditional Affairs.
Through its contribution of time and expertise, members of Sappi's communication department are also playing an active role in formalising a targeted communication programme for the water and sanitation economic development stream through the organised business support initiative led by Business for South Africa.
Sappi will be able to supplement the funding for some of these initiatives, with the money coming from its board of directors and regional leadership teams who have volunteered 10% of their salaries or fees for the three months ending June 2020, as well as forfeiting short-term incentive bonuses for 2020.