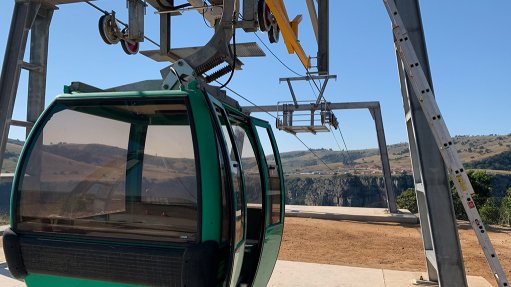 Temporary cableway installed at Msikaba bridge
The South African National Roads Agency Limited (Sanral) plans to install a temporary cableway between the north and south sites of the Msikaba bridge project on the N2 Wild Coast road.
This will drastically reduce the travelling time for staff around the construction site, which currently constitutes a three-hour drive by road, for the remainder of the project.
The cable car will enable site staff to cross the gorge in three to four minutes.
The cable car can accommodate up to six people, or 500 kg in weight, and will transport site staff and sometimes material between the banks.
Sanral project manager Craig McLachlan says even though the two sides of the bridge are effectively being built as two sub-projects, each with its own staff, equipment and material, it is necessary for senior staff and specialists to be able to access both sites of the gorge easily.
The State-owned roads agency has appointed a Swiss cableway company to undertake the installation, which should be complete before the end of July.
The R1.65-billion Msikaba megabridge, with its 580 m span and 195 m height, will be completed by the end of 2023.
The broader N2 Wild Coast road project, which the bridge forms a part of, entails upgrading 410 km of road, from East London to the Mtamvuna river, on the border between the Eastern Cape and KwaZulu-Natal.
The project also consists of building the Mtentu megabridge.
The tender for the Mtentu bridge has closed and is currently in adjudication. Sanral is on track to appoint a contractor during the second half of the year, following which the construction of the bridge will take about 46 months.