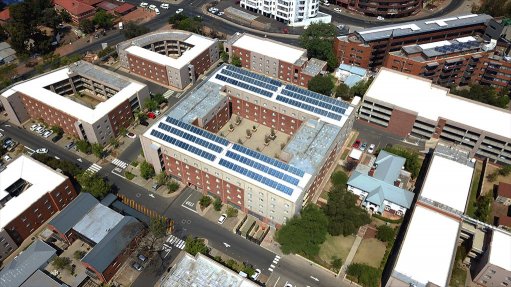 Wits Junction
The South African National Energy Development Institute (Sanedi) on Wednesday launched the first solar district heating system in South Africa at the University of the Witwatersrand's (Wits') Junction Campus, as well as the largest solar process heat system in sub-Saharan Africa at the Klein Karoo International (KKI) tannery.
These two Southern African Solar Thermal Training and Demonstration Initiative (Soltrain) projects, funded in part by the Austrian Development Corporation, will save the two buildings millions of rands in energy costs.
"With a broad transition to solar thermal systems for hot water preparation in the residential, commercial and industrial sectors, the electricity sector in the SADC region could be massively relieved and contribute to the reduction of carbon dioxide emissions, since the vast majority of power plants in SADC run on coal," said Soltrain project coordinator Werner Weiss during the launch at Wits.
Soltrain is a regional initiative on capacity building and the demonstration of solar thermal systems in the Southern African Development Community (SADC) region.
The two projects are part of Soltrain Phase 3 that will run up to July. Soltrain Phase 4 has already secured investment of €2.5-million and will run from July to December 2022.
The 326 solar thermal systems built to date under the Soltrain programme have a solar yield of 1 834 MWh/y and save about 2 000 MWh/y of electricity, while avoiding the emission of 638 t/y of carbon dioxide.
"If one kilowatt-hour of electricity is valued at 22c, the installed solar thermal systems save R4.3-million in electricity costs per year," said Weiss.
FOR THE STUDENTS
The Wits Junction district heating project combines solar, cogeneration and gas heating technologies to service 14 student residence buildings with hot water from one centralised hot water plant room. Installation includes a 600 m2 solar heating plant with 10 m2 collectors.
"The previous domestic systems were distributed systems on multiple roofs; the new solar layout is on one central roof.
"A combined system uses the advantages of each technology: solar has a very low running cost, while combined heat and power gives continuous baseload coverage. The combination covers thermal and essential electrical loads," said project developer BlackDot Energy CEO Wally Weber.
The Wits Junction district heating system caters for 1 103 students across the 14 buildings, which have an average consumption of 94 000 ℓ of hot water a day.
The system supplies the entire hot water demand, including kitchen, laundry, cleaning and other domestic uses. Each student has his/her own kitchen and there are some centralised service rooms for cleaning staff.
"Since the system was commissioned, the complaints of not having hot water have reduced by 98%. The redundancy design guarantees supply, also during maintenance periods.
"The estimated costs savings are R40-million over the next 20 years and already Wits has seen substantial electricity savings over the trial period of eight months. As the electricity cost from the cogenerator is equal to municipal cost, the thermal energy is free and the centralised plant requires a lot less maintenance intervention, therefore less costs. There is currently a back-up water system installation in progress, with 300 000 ℓ tanks, and a more advanced logging and measurement system is also planned," explained Weber.
TANNERY NEEDS
Meanwhile, the KKI tannery installed a 600 m2 solar collector system to reduce costs and increase competitiveness, since fuel costs are highly volatile. There was also an underlying strategy to move its production to a more renewable base; however, cost was the biggest factor.
The KKI tannery produces ostrich leather products and has a heated water-intensive operation.
South Africa is the world's foremost producer in the ostrich industry, with a 70% share in the global market. KKI contributes 55% of production exported from South Africa.
"Stellenbosch University approached various tanneries for process heat application viabilities and this tannery was the most forthcoming and had the budget to contribute to the study," noted E3 Energy representative Doran Schoeman.
He added that the process heat infrastructure at KKI uses an oil burner and not electrical heating. The fuel source is LO10 paraffin oil, at an indicated rate of 11.8 kWh per litre. The feasibility study design specified that the solar thermal would displace the local fuel, indicated as 60% solar fraction. The savings, based on measurements from the plant, indicate 285 000 kWh, with an average indication of R265 000 for the period of eight months, or 24 150 ℓ of oil.
"Stellenbosch University indicated a payback of 6.5 years, based on a solar fraction of 60%. This is from a financial model analysis from the feasibility study, which includes maintenance, finance costs and all system-related expenses.
"Strategically, the approach was to implement a first phase of renewable energy using solar thermal, and to monitor actual results to implied savings. There has been no further commitment as yet, as the analysis is still in progress," said Schoeman.