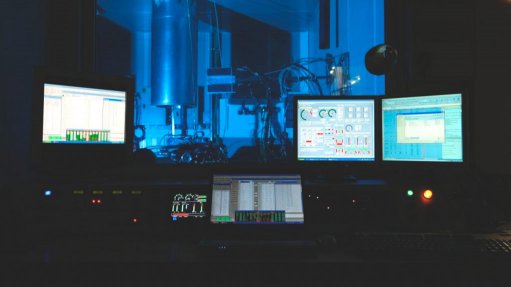 INSTRUMENTAL FOCUS The South African Institute for Nondestructive Testing aims to be instrumental in producing highly qualified NDT personnel for the national and global markets
With nondestructive testing (NDT) considered as an unknown, or 'Cinderella science', a key focus of the South African Institute for Nondestructive Testing (Saint) is to drive awareness of this process of testing, inspecting and evaluation of materials or components, says Saint president Keith Cain.
Consequently, the Saint 2016/17 yearbook, 'Cornerstone of South African Non-Destructive Testing', will act as a reference guide to assist in promoting the South African NDT industry and its importance to the development and growth of many other industry sectors in the country and abroad, Cain says.
"We aim to bring home to our engineers and managers in industry that professional NDT is required at most plants and for most processes, and that Saint's publication can assist decision-makers by providing a thorough understanding of NDT and its advantages."
He further reiterates that the biennual yearbook, launched in May, is "the most informative, detailed and concise NDT guide ever produced by Saint".
It includes NDT methods and techniques, as well as all current information pertaining to the International Committee of NDT, along with guidelines for the International Standardisation of NDT Qualification and Certification, particularly for more advanced Level III NDT technologists.

Cain says NDT "is marginalised at times, to the extent that inspections are performed without the proper and effective parameters being in place".
Further, end-users lack awareness and knowledge of the services and products from NDT technicians and service providers, he adds, noting that Saint aims to assist in this regard and improve the professionalism of the NDT industry.
"Despite NDT being regarded as a fringe industry per se, it is still essential in sectors such as maritime, mining, power generation and earthmoving equipment, as well as the gas and petrochemicals industries,' Cain stresses.
However, NDT is often regarded as a grudge purchase, especially when a contract or scope of work does not stipulate NDT, while financing, particularly in the current economic climate, remains an obstacle. End-users are also reluctant to spend on NDT, as they question the value of the process, Cain says.
He also acknowledges the cost addition to projects when material or components do not meet the acceptance criteria of a specific code or specification. "Time and resources have to be spent to rectify the defects – an unfavourable arrangement."
Exacerbating these challenges is the lack of significant projects and manufacturing, resulting in decreasing demand and requirement for NDT personnel.
Nevertheless, the institute aims to be instrumental in producing highly qualified NDT personnel for the national and global markets and "wants all future NDT men and women who originate from the South African designation system to become known as the preferred suppliers of NDT services worldwide," Cain reiterates.

In promoting the NDT industry and its technicians, particularly women technicians, Saint will host a Women in NDT conference on October 14.
The conference, "the first of its kind in the world", according to Cain, will offer a platform for women NDT personnel to share ideas, gain knowledge and interact with NDT role models. It will also feature technical and nontechnical papers from women active in the NDT industry.