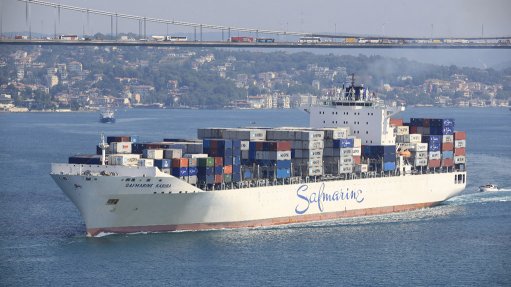 Container shipping company Safmarine, a member of the Maersk group, has seen growth in global container trade slow to 1.1% for the first half of the year, compared with the same period last year, says new CEO David Williams.
Williams, a South African, was previously the MD of Maersk Line East China.
He says Safmarine has revised its forecast for container trade growth in 2015 from between 3% and 5%, to between 2% and 4%.
Global container trade grew by 4% in 2014, and 4.3% in 2013.
"The trading environment has become incredibly volatile," says Williams.
Next year is "too far away" to determine a growth figure, he adds. However, he believes trade will still be positive, depending on what happens to the oil price and the heavily sanctioned Russian economy.
African trade has seen a slump on the back of the falling oil price, reducing income and, subsequently, the appetite for imported consumables. Devalued African currencies also play a role in dampening demand.
Safmarine expects imports in oil-dependent African economies, such as Nigeria and Angola, to fall by between 10% and 15% this year.
Safmarine has a strong focus on Africa and West Central Asia.
In Southern Africa, depressed commodity prices and demand have impacted exports, as well as imports, owing to reduced consumer confidence and spending, notes Williams.
Safmarine Southern Africa MD Dirk Hoffmann says total South African container imports were up 11% in the first six months of the year compared with the same period last year.
This was, however, more of a rebound on last year's poor figures than sustainable growth.
"Is the market resetting? Is the trend sustainable? Has consumer confidence really improved?" asks Hoffmann.
Container exports from South Africa were at 0% for the first six months of the year. However, perishable exports grew by 10%.
Container exports from South Africa include chrome, manganese, copper and steel.
Commodity and steel exports from South Africa have decreased sharply, notes Hoffmann.
"It is clear we have not yet emerged from the shadows of the recession."
Safmarine in January started a restructuring process, with the transformation process halfway completed.
The goal of the process is to "lead the shipping business into the era of ICT", says Hoffmann. "It is about simplification – taking out complexity – through digitisation and automation."
This process has seen the Southern African staff complement cut by around a third, with 97 people remaining. India gained around 90 people.