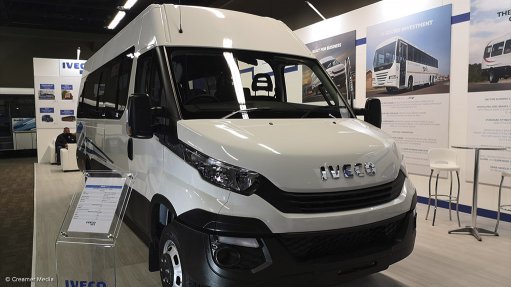 SHOWCASING EVENT Iveco's focus on safety was highlighted with the launch of its after-market rollover kit
Industry association the Southern African Bus Operators Association (Saboa) hosted its annual conference and exhibition on July 31 and August 1, during which exhibitors promoted new innovations and technologies, and networked with fleet operators and end-users.
The event comprised the conference, which hosted panel discussions, and the exhibition, which hosted more than 20 exhibitors, from financial institutes to bus manufacturers.
The wide array of exhibitors, particularly bus manufacturers and bus component manufactures, took to the exhibitor's platform to showcase their features and provide insight into the performance of vehicles.
One of the exhibitors was truck and bus manufacturer Iveco, showcasing its Daily Euro 4 50C15/E4V MY16 bus, which is a 22+1 seater.
At the event, Iveco commercial vehicle truck and bus division manager Deon Wannenburg told Engineering News that this product had been launched in 2017, but that Iveco exhibited the safety aspect of the product this year. In addition to passive safety features, such as seatbelts and airbags, and active safety features, such as hill holders and increased windscreen height, Iveco has also added integrated rollover kits.
The kits have been approved by the South African Bureau of Standards and are added as after-market kits that are locally manufactured.
During the exhibition, Iveco sales manager Marc Barnett shared projected advancements that Iveco was expected to make, as Iveco was a strong brand in Europe, and was making significant strides in the evolution of electric buses and gas buses.
He further elaborated that, in South Africa, however, Iveco was still an up-and-coming brand. "The manufacturing plant was developed only in 2012 and Iveco began manufacturing only in 2014. However, in this short time, it has experienced noticeable growth and now owns about 9% of the market."
In addition to being a Saboa member, which gives Iveco a prominent showcasing platform, Iveco has started a demonstration programme, which enables customers to use the Iveco buses.
"This enables Iveco as a new brand to break into a market with very brand-loyal clients. However, the success rate of our demo programme has been between 85% and 90%, with clients keeping our demo models and adding Iveco buses to their fleet," Barnett adds.
Bus manufacturing company Busmark also exhibited at the Saboa event with their focus being to design, develop, manufacture, service and maintain buses on behalf of local and international original equipment manufacturers using local funding, labour and material, said Busmark business development manager Donaldson Soga.
The Saboa event hosted a range of exhibitors, while members could use the opportunity to showcase their latest advancements and promote existing products on a notable platform.