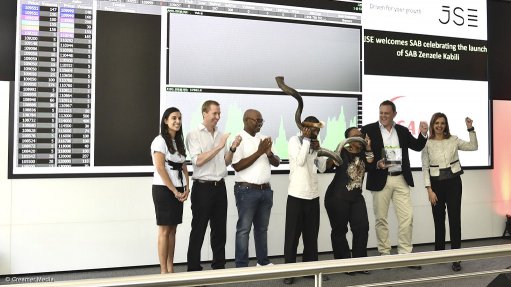 Photo by: Creamer Media's Donna Slater
South African brewery company AB InBev on Monday announced details of its new black economic empowerment (BEE) scheme, where a new BEE ownership transaction will be implemented through a company called South African Breweries (SAB) Zenzele Kabili.
The R5.4-billion SAB Zenzele Kabili transaction will be funded through a combination of R678-million equity contribution from existing SAB Zenzele shareholders, R600-million equity contribution from a new broad-based employee share ownership scheme, funded by SAB, as well as a R344-million reinvestment by the SAB Foundation.
SAB will also contribute about R811-million worth of AB InBev shares, from the end of March, at no further cost to SAB Zenzele Kabili, to further enhance the capital structure of the scheme.
In return for SAB's investment, SAB Zenzele Kabili will issue preference shares to SAB.
About 29 000 shareholders of the previous BBBEE scheme, SAB Zenzele, will be eligible to invest in the new empowerment transaction, while between 5 500 and 6 000 participants in the previous employment share option plan can also choose to reinvest in SAB Zenzele Kabili.
There will also be a new employment share option plan for qualifying employees.
The SAB Zenzele Kabili share transaction builds on the success of the SAB Zenzele scheme, which is set to deliver about R9.7-billion to participants by April.
Participants who invested R100 in 2010 will receive a pre-tax payout of about R76 000 when the transaction unwinds, the beermaker said on Monday.
The SAB Zenzele transaction was created with the intention of generating sustainable ownership and economic wealth opportunities for previously disadvantaged groups and redressing historical imbalances and transferred about 8.45% of SAB shares to more than 40 000 shareholders.
Since its inception in 2010, SAB Zenzele has disbursed about R4-billion to shareholders.
SAB Zenzele will run in its current form until the end of March.
With empowerment as a key driver and one of the core beliefs of the business, SAB will formally launch its new empowerment scheme, SAB Zenzele Kabili, in April.
Shareholders of the SAB Zenzele scheme will have multiple options, one of which is to reinvest a portion of their unwind value in the new SAB Zenzele Kabili scheme. Alternative options include receiving proceeds in the form of shares in SAB's parent company AB InBev or to receive their proceeds in cash.
The new empowerment scheme is built on the strengths of SAB Zenzele, SAB and AB InBev mergers, acquisitions and treasury director Richard Rivett-Carnac said at the launch event on Monday, adding that the new scheme incorporates advancements and learnings from the last ten years.
The SAB Zenzele Kabili scheme was also officially welcomed into the JSE's portfolio, which Rivett-Carnac said aimed to resolve concerns surrounding access to liquidity and the transparency of share pricing for participants.
About 35 000 participants are expected to get involved in the SAB Zenzele Kabili scheme's first day of trading.