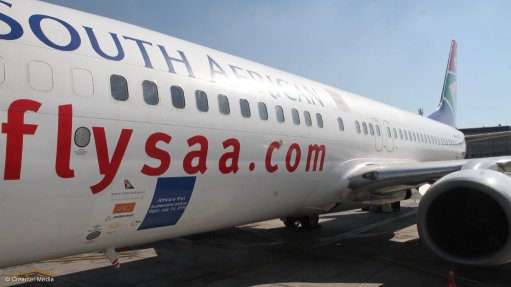 Photo by: Duane Daws/Creamer Media
State-owned national flag carrier South African Airways (SAA) announced on Wednesday that it had scaled down its capacity because of the fall in air passenger demand. This is the result of the Covid-19 pandemic, which has severely affected the global air transport industry.
Under these circumstances, SAA had made the decision to only operate flights which had the necessary load factors (and other business considerations) to warrant being scheduled. Flights which had been more severely affected by the decline in demand were cancelled.
"Notwithstanding the decline in demand, SAA continues to aggressively review its schedule to match capacity with demand to the extent possible," reported SAA chief commercial officer Philip Saunders. "Where feasible, we will consider options that include cancelling and merging flights."
The airline had cancelled 162 flights for the period March 17 to March 31. Cancelled international flights numbered 38, while the other 124 were regional flights (that is, flights to destinations in Africa outside South Africa).
However, SAA was continuing to provide international, regional and domestic services for those people for whom air travel was essential and unavoidable. It would also continue to operate services to (and from) destinations not yet affected by anti-Covid-19 travel restrictions. The airline, as far as permitted by the travel restriction conditions announced by the South African government, would help "qualifying" passengers to transfer their flights to or from SAA destinations which are now classified as high-risk.
"We have updated our Customer Reservation Policy to help our passengers defer their travel plans were possible," he said. "To this end, we have offered our customers one free ticket change, in acknowledgement of travel restrictions that are not of our customers' own making."