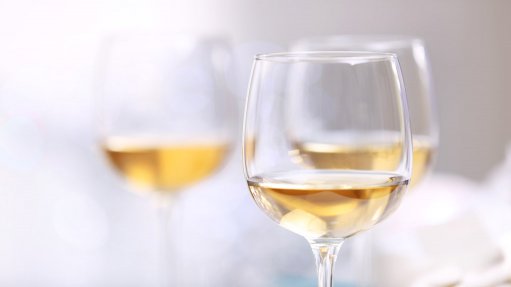 With exports accounting for half of the South Africa's wine production, the industry is more focused than ever on growing both value and volume in established and new markets, while actively working on creating a more favourable trade environment. By Glenneis Kriel
Industry smaller, but better
Rising production costs together with sustained low wine prices have led to the area under wine grape production shrinking by 6% over the past five years and the number of wine grape producers declining by 34% to 2 873 over the past ten years.
This, along with unfavourable climatic conditions have led to the 2019 wine harvest being 1,4% smaller than last year's drought hit crop and at 1 225 620 tons, the smallest wine grape crop since 2005, according to South African Wine Industry Information Systems (Sawis).
The situation has led to a 6,3% decline in export volumes and 4,2% decline in domestic sales volumes in 2018. On the bright side, however, export value increased by 4,2% to R9,1 billion and domestic sales value grew by 1,7% to R16,4 billion, which is line with the Wine Industry Strategy Exercise (WISE) goal aimed at making the industry more value-driven and ultimately more competitive.
Locally, it was especially lower priced wines (selling for under R30) and those in the super premium (R72 to R108) and ultra premium (above R108) categories that performed well, with the value of low priced wines increasing by 3% and those of the super and ultra premium categories increasing by two percent. The value of basic wine (R30 to R48) remained the same, while that of premium wine (R48 to R72) declined by eight percent.
While many producers are still under tremendous financial pressure, Vinpro chairman Anton Smuts is optimistic that the industry might have turned a new corner with renewed energy and focus.
"The industry now has the opportunity to build on this momentum to ensure a sustainable environment for investment, all the while realising that South Africa faces strong global competition, as well as the fact that pricing relies on availability, especially from our counterparts in the southern hemisphere," Smuts says.
Building sustainable markets
Siobhan Thompson, CEO of Wines of South Africa (WoSA) says the drought in combination with an international oversupply resulted in a perfect storm, that caused South Africa to lose listing at the lower price levels due to lack of supply or to other countries who could supply the same level of wine at a better price.
"The good news is that we saw momentum in higher priced tier wine recognition and listings, which might be part of a greater strategy which the industry is working towards for 2025," she says.
Growing new markets and maintaining traditional markets, such as the United Kingdom which still accounts for about 20% of South African wine exports, is crucial to the wine industry's growth strategy.
Under WISE, the United States, China and Africa have been identified as three priority markets, with the goal of growing the share of these markets to a quarter of total exports by 2025. These countries accounted for 11% of South Africa's wine exports in 2018, amounting to 19% of the total export value.
To this end, WoSA is promoting South Africa as a producer of top quality wines, adapting the marketing strategy according to the market. "In Asia, for example, there is a strong emphasis on tourism and traceability, whereas the focus is on diversity and terroir in the North American market and environmentally friendly and ethical responsible production practices in the more traditional European markets," Thompson says.
The WoSA Sommelier Cup is an example of how WoSA is promoting South African wines. The competition attracted 447 sommeliers entries from across the world this year and gave eleven finalists and twenty-one semi-finalists an opportunity to come to South Africa and become ambassadors of our wines. "Whether they made it to the finals or not, the competition exposed the sommeliers to our wine, which undoubtedly made them more receptive to us," Siobhan says.
Trade agreements
Favourable trade agreements is another priority. Michael Mokhoro, stakeholder manager for Vinpro and the South African Liquor Brand Owners Association (Salba), explains that preferential market access generally reduces export costs, which in turn enhances the profitability and the competitiveness of the industry against countries that do not enjoy this advantage.
Britain's exit from Europe (Brexit), for example, presents a major opportunity for the South African wine industry, because the United Kingdom has signed an agreement that would allow the industry to 70 million litres of wine, tariff-free to the UK post-Brexit. This is above the 110 million litres which is being enjoyed under the SADC EU EPA agreement that gives South Africa preferential access to Europe, according to Mokhoro.
The UK has agreed to annually increase the 70 million litres with 1 million litres each year similar to EU.
At the same time the South African government and the United States are in talks to retain or find an alternative agreement to the African Growth Opportunity Act (AGOA), which is set to expire in 2025. The AGOA agreement has helped the South African wine industry to significantly increase its footprint in this market.
The industry also stand to benefit from the African Union's decision to integrate African markets through the initiation of the Tripartite Free Trade Agreement, which are (SADC, EAC and COMESA) and Africa Continental Free Trade Agreement (AfCFTA).
"These agreements present an opportunity for the South African wine industry to increase its footprint in Africa, by allowing all grape products coming from SADC, which includes South Africa, to be exported duty free into Africa," Mokhoro explains. "The wine industry has already made headway in East African markets, such as Kenya, Uganda and Tanzania."