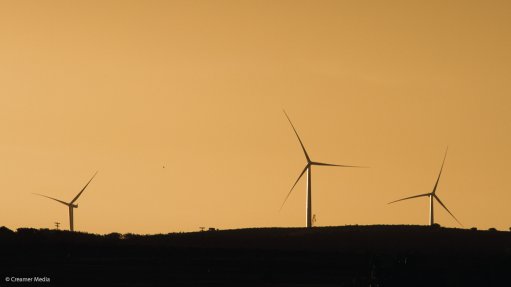 Photo by: Duane Daws
Southern Africa's first ever wind atlas, developed to help government and industry to identify high-potential wind development zones, has reached the end of its first stage and is to be expanded following new funding commitments.
The Wind Atlas for South Africa (Wasa) has been mapping the Western Cape, parts of the Northern Cape and the Eastern Cape. More funding from the Danish government will see the Wind Atlas being expanded into the remaining areas of the Eastern Cape, KwaZulu-Natal and parts of the Free State.
Wasa aims to assist in the development of large grid-connected wind farms and to provide more accurate wind resource data to identify potential opportunities for off-grid electrification.
Ten lattice-type 60 m wind masts have been installed at sites selected mainly for their use for verification of mesoscale modelling in the project areas of the three provinces.
Graphs are available automatically for downloading online. About a week after the end of each month, the wind data from each station is made available.
Topography and land cover is also being mapped, while an 'Extreme Wind Atlas' has also been launched.
Three years into the multimillion-rand project, Wasa data has been downloaded more than 42 000 times by 1 467 registered users.
About 60 countries have been following the Wasa website and research, with Department of Energy (DoE) clean energy chief director Mokgadi Modise revealing Palestine has even customised its wind atlas along Wasa-type lines.
"We need good and reliable tools such as the Wind Atlas for long-term strategic planning. Reliable, accurate data is critical for planning. It will help developers in preparation for wind farms and diversify our energy mix," Modise said at a Wasa seminar in Cape Town.
The project has also honed skills in South Africa and developed a group of wind measurement experts. The Danish and South Africans are working closely with the United Nations Development Programme (UNDP).
"It has been documented that wind energy is a fast and cost-effective way to expand South Africa's energy capacity. There are also jobs to be made in the sector. The green economy currently contributes about 60 000 jobs in Denmark," said Danish Ambassador to South Africa, Rene Dinesen.
"The story of Wasa and its success is intricately tied to the massive global emergence of wind power. Since 2008, global wind power deployment has more than doubled, now reaching 300 GW of cumulative installed capacities, and the future looks brighter still," UNDP country director Walid Badawi told the seminar.
Wasa is an initiative of the South African Wind Energy Project, which falls under the DoE. But it is supported by the UNDP, with funding from the Royal Danish Embassy and the Global Environment Facility (GEF). Several partners, such as the University of Cape Town and the South African Weather Service, are also participating.
Wind power is being seen as a key driver of renewable energy in South Africa in its bid to reduce greenhouse gases by 34% by 2020. The DoE also hopes that 30% of energy will come from renewable sources by 2025.